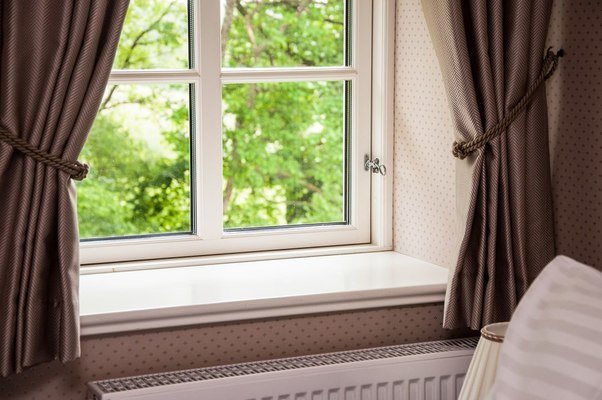 Curtains are one component of a home's interior that adds appeal and character to a room. That is indeed true, but there is more to curtains than just being a piece of cloth hanging on windows and doorways as part of an interior decoration. The fact is, curtains are multi-functional. They can be used for decorative purposes, and are also one way of keeping your personal space private.
Curtains can also serve as an insulating factor to help control the temperature inside a room, especially during the winter. Most of the time, curtains are used for soundproofing and light control. Blackout curtains are made especially for this purpose. They usually combine the functions of insulation, light control, and soundproofing as its main features.
There are many curtains and drapery products available on the market, with each having its own unique specifications. They usually vary on the quality and make-up of the fabric. Most are made of 100% polyester, although it can sometimes be 65% polyester and 35% cotton.
While functionality is considered to be the main reason why blackout curtains are chosen, the presentation and the design are also a huge factor that needs to be considered when buying these curtains. We have gathered information and analyzed data based on reviews online, and here are a few blackout curtains which one would definitely find interesting.
Blackout Curtains Window Panel Drapes for bedroom / living room
This product is one of the most affordable drapery product available on the market today, which is very surprising considering the quality and condition of this item. The sunlight, noise, and heat blocking properties of these curtains impressed a lot of customers who were very satisfied with the quality of this curtain, leaving notes on it being better than most of the products sold at higher prices.
Contemporary Moroccan Trellis Design Classy Top Grommet 2 Panel Window Curtain
The Contemporary Moroccan Trellis Design Classy Top Grommet 2 Panel Window Curtain is made primarily for decorative purposes. It doesn't have the blackout properties that other items on this list have but its sophisticated and tasteful design makes it a perfect panel curtain to use for DIY budget blackout curtains. There are many colors to choose from and the fabric has a sheer texture. Pair it with a blackout fabric or any recycled cloth that is thick enough to block the light and heat and it should be good to go.
Deconovo Solid Thermal Insulated Blackout Curtains
Comfort and beauty are two main reasons why the Deconovo Solid Thermal Insulated Blackout Curtains are being chosen by many customers. The quality of the fabric is very impressive, considering the price at which it is being sold. The blocking properties for light, sound, and heat of this curtain are very promising as well. It is particularly recommended for its insulation properties as it keeps the temperature inside a room at the desired level while saving energy.
Nicetown – Pair of Back Tab / Rod Pocket Thermal Insulated Blackout Curtains / Drapes for Bedroom
Chosen mainly for its noise buffing and light-blocking properties, the Nicetown – Pair of Back Tab / Rod Pocket Thermal Insulated Blackout Curtains is considered to be one of the best sellers on the market today. The quality of this curtain has been proven by many customers and is being documented in the reviews they leave on product review sites. It has a thick fabric that has a matte satin texture. The curtain looks simple yet elegant and is perfect for a minimalistic interior. And if that isn't enough to convince anyone to purchase this product, maybe the fact that it comes at a very reasonable price will.
Best Home Fashion Wide Width Thermal Insulated Blackout Curtain – Antique Bronze Grommet Top
Proving the reputation and quality of products produced by Best Home Fashion for years, this product has certainly caused quite a stir on different product review sites. As one of the most-reviewed products in this category, this item has been proven to have excellent light-blocking properties, especially for the drapes with darker colors. The insulation and noise-buffering properties of this curtains may not be top notch but considering its price point, it's definitely worth more than its price.