This post may contain Amazon® product affiliate links. We may receive a commision if you make a purchase after clicking on one of these links but at no cost to you. Please visit Our Disclosure Page for more information. Thank you.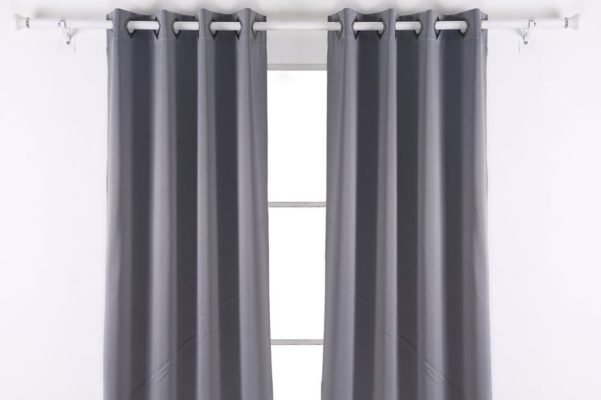 Curtains are very useful in homes and offices. Aside from adding aesthetic value to a room's interior, they also do other things such as blocking the light during the day, providing privacy, keeping the dust from getting inside the house, keeping the outside noise to a minimum, and even serving as a cost-effective insulation during cold days.
As simple as it may seem, there are many things that need to be considered in choosing a curtain to hang at home. Curtains used in offices and other public places like restaurants and venues for social events have different classifications as well.
Most of the time, curtains are chosen based on the design and presentation; other times their functionality is considered more.
Blackout curtains like the Deconovo Solid Thermal Insulated Blackout Curtains are chosen because of their ability to prevent sunlight from getting through the window and into the room. People who choose these drapes are mostly day sleepers or parents with newborn infants.
They're made of high-quality fabric with multifunctional properties. Based on reviews posted online, this product is one of the most effective blackout curtains. And since it is available at a very reasonable price, people are not thinking twice about buying.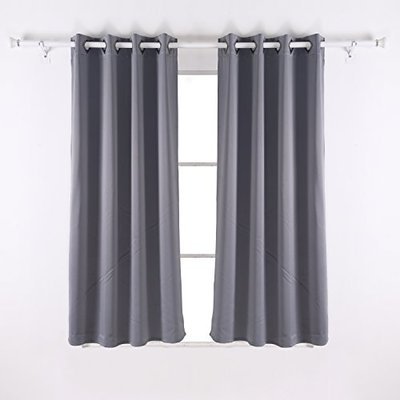 Key features
The Deconovo Solid Thermal Insulated Blackout Curtains is fairly new on the market but it has created quite a name for itself. More and more people are choosing this product because, aside from its very reasonable price, it also has these excellent features that make it really a worthy investment.
Complete set with two (2) panels, each measuring 52″ W x 95″ L and 8 grommets per panel
Unique multifunction curtain with one blackout side, and a silver-coated side for maximum blackout properties, sunlight reflection/blocking and thermal insulation function
High quality fabric made of 100% polyester
Machine washable, easy to maintain
Pros
The Deconovo Solid Thermal Insulated Blackout Curtains is considered as a very effective blackout curtain because it really does darken the room like it's supposed to, unlike other blackout curtains on the market. It has one blackout side while the opposite is silver coated, maximizing its light blocking properties.
The silver side does not only block and reflect the sunlight rays, it also serves as a thermal insulator that keeps the room warm during the cold season by preventing the heat from escaping. There are two panels per package and each of them measures 52″ W x 95″ L.
The quality of the fabric is not mediocre and it is very durable. It's not flimsy like other products on the market and you can expect these curtains to last for a long time. The seams are sewn carefully, without any loose threads. This curtain is simple and elegant and it comes in various colors.
Cons
Based on the reviews from some customers, there is a slight difference between the picture and the actual product. Another thing to look out for is the curtain's heat blocking property, which is not as effective as its light blocking property.
Verdict
This product does well in bringing comfort and beauty to many households and offices. The high-quality fabric, with its simple and elegant presentation, adds aesthetic value to a room's interior. It also functions well as a blackout curtain and keeps the light from entering the room.
It is not mainly created for insulation purposes but it helps in keeping the room warm during the winter and it keeps heat from getting in during the summer. It functions well and it looks great, especially for minimalistic room themes. It is indeed a good deal, especially at the price at which it is now available.
Comparison
One of the other products that can be placed side by side with the Deconovo blackout curtains is the Nicetown – Pair of Back Tab / Rod Pocket Thermal Insulated Blackout Curtains / Drapes. They both have almost the same features and specifications; the major difference is that the Nicetown curtains are a lot less expensive than the Deconovo blackout curtains.
View Thermal Insulated Blackout Curtains on Amazon