The interesting feature of a micathermic heater is that it occupies less space but warms up the area quickly. That's because such heaters make more use of convection heating than reflective heating, allowing them to heat up the area faster than the traditional oil heaters.
Most micathermic heaters are provided with a control enabling the user to adjust the temperature for keeping the room warm when it's cold outside. You can achieve considerable saving in energy bills by turning down the thermostat after the room has been heated and by programming the heater to warm up only the areas under use.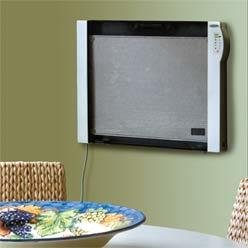 In this case, size is not important really, as it corresponds to the design of the micathermic radiator. Most heaters are available as flat panel systems. Heaters with higher levels of power are usually larger in area. A surface area of about 600 square inches more than suffices for heating nearly all spaces speedily and effectively.
At times you can get micathermic units in tower shape also, making it somewhat difficult to estimate the area. Numerous heaters are frequently wall-mounted, making them ideally suited for smaller places.
When looking for a heater for very congested areas, it will be good to buy a wall-mounted model rather than a free standing flat panel or even a tower shaped model that occupies lot more space.
It may be added here that these heaters with a built in arrangement for high or low settings of temperatures are more expensive than the models that have just one standard setting. One should opt for a micathermic heater with controls for time and temperature. These two features help saving a lot of expense as you can program the heater to warm the room for certain predetermined hours.
Once you start using such a heater you'll appreciate how efficiently and economically its operation is. Some models of these heaters are available with remote control too, enabling you to make the adjustments from a distance without having to leave your seat or bed. However, for smaller rooms one can do away with remote.