Curtains and Draperies have been a staple component of every household throughout many cultures. Regardless of the house's exterior and interior, curtains always accentuate the aesthetics and add character to the interior arrangement.
Aside from that, curtains and drapes have other functions, such as blocking light rays from getting inside the house, and also keeping cold breezes from getting in during winter.
There are different types of curtains and there are several styles or ways to decorate or hang them, but looking for one that will complement your living room or bedroom shouldn't be that hard if you know where to look.
The Best Home Fashion Wide Width Thermal Insulated Blackout Curtain, with an antique bronze grommet top, is one of the best sellers on the market. A lot of people find its dimensions very functional and versatile. It presents a contemporary design with a blend of the fabric's modern touch and the antique bronze grommet top's design.
It is excellent for homes, offices, and even hotel rooms. And since it comes at a very affordable price, you can get one for every window at home.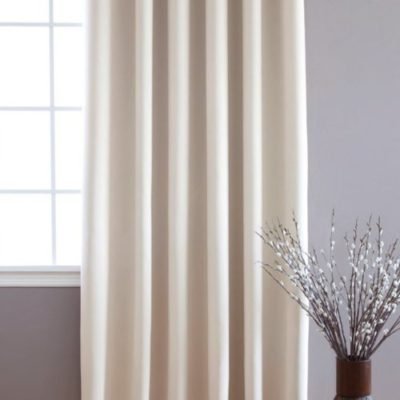 Key features
More than 1,400 customers have posted reviews for this product on Amazon and it has gained an average of 4.6 stars. This just goes to say that the Best Home Fashion Wide Width Thermal Insulated Blackout Curtain is indeed an excellent product. And to prove the quality of this insulated blackout curtain, here's a list of its features that makes it one of the best deals you can find in the market.
Various colors to chose from
Great insulating agent, keeping your home at the right temperature throughout all the seasons
Impressive blocking ability with independent laboratory test shows curtain blocks out 99.9% of light
Easy to wash and clean with its innovative fabric construction
Complete set of curtain, grommets and tie back
Pros
The Best Home Fashion Wide Width Thermal Insulated Blackout Curtain is popular mainly for its thermal and insulation properties.  With its innovative fabric construction, it offers energy efficient comfort by keeping heat trapped inside your home during cold weather or the winter.
The triple weave technology of its fabric uses densely fabricated black yarn that blocks 99% of light from the outside. It is also thick enough to muffle sound from outside the house.
The drape has the right weight to keep it steady when the windows are open. The texture of the fabric is good and it is also machine washable, which means it is very easy to wash and clean. The contemporary design is excellent for a majority of houses in this modern era.
The fabric itself looks elegant and the bronze grommet top just accentuates the overall appearance of the drape.
Cons
The drape works great for its heat and sound buffering, and the darker shades of the drapes work well when it comes to blocking light from outside, but some lighter shades doesn't work as effectively as the darker ones. If your need is mostly for decoration rather than the light, heat, and sound blocking properties of the drapes, the color or its light blocking property of this product shouldn't be an issue.
Verdict
Quality that comes in a very affordable price, the Best Home Fashion Wide Width Thermal Insulated Blackout Curtain has certainly lived up to its reputation. It is not a surprise that it is one of the most reviewed products in this category. The light-blocking it excellent, especially for dark-colored drapes, and its insulation and noise buffering properties are something that is pretty rare for a product at this price tag. All in all, features and price considered, this drape is definitely worth every single penny you spend on it.
Comparison
Unlike the Best Home Fashion Wide Width Thermal Insulated Blackout Curtain, which has been on the market for quite some time, the Blackout Curtains Window Panel Drapes is fairly new and it has earned quite an impressive feedback from the few customers who have tried it. The latter is a lot cheaper and it has just about the same features for light and heat blocking.