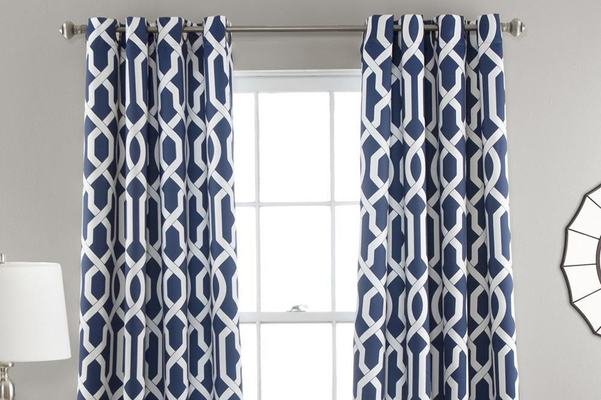 To produce total darkness in a room during high noon is no easy feat. Many people resort to a number of methods and devices, such as shutters or blinds. But, sometimes, getting old-school and reaching for a curtain is overlooked. These days, there are a good number of blackout curtains available in stores and online to cater to your room-darkening needs.
However, there is one consideration that people are somewhat particular about when choosing a good blackout curtain: its aesthetics. Just because you are trying to engulf a room in total darkness does not necessarily mean that it is supposed to stay that way for good.
Take for example, blacking out your bedroom to extend your morning sleep, you would still expect to wake to a pleasant sight as you look to your drapes and as you pull them back to revel in your day.
This is where the Lush Decor Edward Blackout Window Curtain Panel comes in. A chic navy design that can block out the sun so you can say "ahoy!" to good daytime sleep.
Features:
Made of pure polyester
Set of 2 panels of 84 inches by 52 inches
Top grommets for easy installation
Easy to clean
Energy efficient
Being made of 100% polyester, you can be sure that the Lush Decor Edward Blackout Window Curtain Panel can outlast a lot of items in your home. This is because of the durable properties of polyester. It does not tend to shrink or wrinkle easily, and it also is stretchable, making it difficult to tear.
Also, you can be assured that the stylish prints of the Lush Decor Edward Blackout Window Curtain Panel will stay put as the colors in polyester does not fade easily by exposure to the sun. You can easily put this curtain facing the mid-afternoon sun on a hot summer day and not worry about its color fading out.
Yet another advantage of the polyester make of this curtain is that it is environment-friendly, since this fabric is recyclable. During its recycling process, toxic chemicals are recycled back into use and very little water is used. At the end result, you get a finished manufactured material that is of equal quality as that of the original fabric. So, not only are you getting a good-quality product, you are also helping out minimize environmental damage.
The 2-piece set Lush Decor Edward Blackout Window Curtain Panel comes in an 84 inches by 52 inches size, making it perfect for floor-length windows that you and your guests can easily appreciate. It gives out a fresh and breezy aura with its somewhat nautical hints in its design and its navy blue color. You can easily place this in your bedroom for a refreshing sight, or your living room to brighten up your receiving area. It can even make do for your kids' rooms, especially if you have a nautical theme set up for them. This would be the perfect pair of drapes.
The Lush Decor Edward Blackout Window Curtain Panel also comes in an easy to install grommet type design that is so popular these days. These grommets allow the decorative curtain rods to slide in easily and allow the fabric of the curtain to fall into place in orderly folds that are equal in size. They are equally trendy and stylish as they are very practical, readily available, and easy to use and install.
The grommets make it easy for any homeowner to slide them open and shut, and with the decorative rods, your room can get an instant stylish up-do without having to spend to consult a designer. It is easy to maintain too since it is machine washable. Just set your settings to mild and machine wash it in warm water.
Verdict:
A lot of previous buyers raved about the Lush Decor Edward Blackout Window Curtain Panel's design. It is indeed a pretty curtain panel to look at. One buyer commented that her window often received compliments from neighbors and passers because of the Lush Decor Edward Blackout Window Curtain Panel.
They come off as elegant and seem to cost more than they actually are, giving off a very classy feel to any room or any home. They come in a great and durable material that can withstand the test of time and use too.
However, some previous users are irked that although the Lush Decor Edward Blackout Window Curtain Panel does darken a room to a certain extent, they do not deliver the "blackout" part of the deal very well. Despite the navy blue color that almost seems to be black, some degree of sunlight still comes through, making it less ideal if you are looking for total darkness for your room. That, or if you're a day sleeper or live in Alaska, especially in the middle of summer.