For evenly cooked and heated food, an electric skillet is the ticket. This type of skillet can be used as an extension of your stove or as an energy efficient replacement. Whether you're cooking for one or a large family, or you simply need a secondary heat source for frying or cooking the main course, an electric skillet is a handy appliance to have in the kitchen.
The Electric Skillet Buying Guide for 2017
With a tailored lid to trap heat and external heat controls, an electric skillet is the perfect way to cook large meals in a single pan. Most models are equipped with thick glass lids and dark non-stick cooking surfaces.
Using an electric skillet can make the cooking process much easier. Instead of using the oven or the stove, dirtying several pots and pans and making a huge mess in the kitchen you can use a skillet to cook your food faster and more efficiently.
The electric skillet is an inexpensive, great way to significantly expand the amount of cooking space you have to work with in your kitchen. Which can be a major issue for those homeowners who simply don't have a kitchen remodel in their budget. This type of appliance can be used to quickly cook side dishes while the stove and oven are handling the main course. Just like a normal skillet, electric models can pan-fry, boil or sauté food, but many of these models can also be used for deep frying. This kind of versatility and the ability to multi-task in the kitchen is what makes this appliance necessary for the avid cook.
The electric skillet incorporates an electric heating element into a frying pan, allowing you to cook food away from the kitchen stove. The heating element provides the user with accurate control over temperature settings. Some models are even able to reach temperatures as high as 450 degrees. Skillets that reach temps this high can pan-fry, deep fry and sauté foods.
Features to look for
Consumers usually assume that a larger skillet will be more versatile, and that's typically true. However, if you're only cooking for one, you may want to invest in a smaller model. Larger models will take longer to heat up and it can be frustrating to wait around for the skillet to reach the right temperature if you only need it to fry a small entrée. A smaller pan will heat up faster, but they won't be able to accommodate an entire meal or larger ingredients.
You may also want to consider the shape of the skillet before you buy. While most models are round, there are some that feature an oval shape, which can come in handy. If you usually cook things like fish fillets or shell steaks, you'll probably want to choose an oval skillet. Aside from their ability to simplify cooking narrow, long foods, this style of skillet is often designed to double as a serving dish as well.
Most electric skillets feature a non-stick interior, which can be a big plus when it's time to do the dishes. Using a non-stick pan means you can also avoid using excessive amounts of oils and butter, which makes it much easier to create healthy meals. A non-stick pan is also ideal for cooking certain dishes such as pancakes, French toast and egg dishes.
While a traditional non-stick pan cannot be used over extremely high heat, this simply isn't true for the non-stick coating found in most models of electric skillets. However, not every type of non-stick coating can handle every day wear and tear and because of this you must refrain from cleaning the interior using steel wool or using steel cooking utensils. Even though some manufacturers claim that their skillets can withstand rough use, we still recommend using only wood or plastic cooking utensils.
TIP: Choosing a skillet that's made out of appropriate materials is a critical part of choosing the right skillet. It can be easy to become confused over the wide range of materials that are used and available. But most consumers can agree that stainless steel is the way to go.
Aluminum clad models are extremely popular and are praised for evenly heating food, and they also minimize the chances of hot spots and have a reputation for being rust and corrosion resistant and very durable. Of course, the main drawback of this type of skillet is the sheer weight as most models tend to be very heavy.
And it probably comes as no surprise that the thicker the skillet, the higher the price tag. Models that use multiple layers or feature special cores will cost significantly more. Thickness is usually measured in gauge or mils. When gauge is used as a measurement the lower the gauge the thicker the pan, while when mil is used as a measurement, the higher the mil the thicker the pan. A thicker pan will promote more even heating and is also able to hold heat better, allowing you to easily sear your meats to perfection.
Keep in mind, the thicker the skillet the longer it will take to heat and cool. And due to their sheer weight, these models can be more difficult to handle and clean.
Some models of electric skillets will come with special stay cool handles, which will allow you to pick up your skillet without burning your hands and while it's true that a good pair of oven mitts can work just as well, some consumers simply enjoy this extra perk or prefer this safety option, especially if they have small children in the home. Models that are equipped with rubberized handles works just as well and tend to be the easiest to use when stay cool technology handles fail.
Skillets will also feature different sizes for their sides as well. Some models will have straight sides, which are perfect for preparing entire meals or for braising a roast. Skillets that feature straight sides can be used whenever you're cooking with liquids, in order to prevent the liquid from sloshing over the sides of the pan.
Models that feature sloping sides are perfect for making eggs or other types of dishes that require the use of a spatula. Sloping sides make it much easier to slip a spatula underneath the food in the skillet. If you use a skillet with straight sides, then doing this can be almost impossible.
Unlike griddles, the skillet lets you use liquid ingredients and can retain both heat and moisture for recipes that require boiling and simmering.
The ability to accurately control the cooking temperature means you can create your favorite fried dishes more easily than you would on your stove top.
However, while the high edges of the skillet can keep the food contained, they can limit the amount of cooking surface you have to work with at times. Some consumers also feel that an electric skillet isn't quite as versatile as an electric griddle.
The Bottom Line
There are a wide range of uses for electric skillets, and they can definitely be relied on if you live in a studio apartment that doesn't have a kitchen, a dorm room or if you frequently go camping. If you're hosting a dinner, preparing the Thanksgiving meal or want to cook an entire meal away from the stove, all of these jobs can be accomplished with a large electric skillet.
The cost of using this type of cooking appliance can also save you money on your monthly electric bill, compared to the cost of using your stove every night.
There are a range of sizes, thickness levels and materials to choose from, which makes doing your research before you buy, well worth it.
Pay close attention to how each model is reviewed and what consumers had to say regarding their experiences with each product. This will help you to narrow down your choices to one or two models that did well when put to the test.
While price doesn't always reflect quality, when it comes to an electric skillet it's well worth it to save up for a model that costs a little more but will last you for several years. Should you choose a more expensive model, make sure it features an extensive warranty that covers the cost of shipping and repairs while covered.
1. Precise Heat Surgical Stainless Steel Oil Core Skillet
The surgical stainless steel electric skillet by Precise Heat is equipped with an exterior that's three layers thick and knobs and handles that feature the patented stay cool technology.
This feature allows you to safely pick up your skillet without the fear of burning your hands and without the use of oven mitts.
This model allows you to closely control and monitor the cooking temperature, which ensures evenly cooked food done in just a fraction of the time.
With a thick layer of non-stick coating on the interior, you can effortlessly cook foods such as pancakes, grilled cheese sandwiches or even eggs, without food sticking. The non-stick surface also cuts down on clean-up time and allows you to forego fattening oils and butter.
The built-in oil core technology allows the pan to heat up much faster, at least according to the manufacturer.
Some consumers had issues with how long it took to heat the skillet and the skillet's inability to reach higher temperatures for certain dishes such as red meat or poultry. This model received mixed consumer reviews and not enough praise to encourage shoppers to give this model a second look.
Click Here to Read Full Articles for Precise Heat Surgical Stainless Steel Oil Core Skillet
2. Zojirushi EP-RAC50 Gourmet d'Expert Electric Skillet Review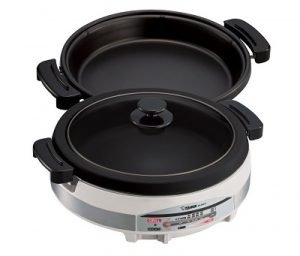 The EP RAC50 gourmet D'Expert electric skillet by Zojirushi features two plates, one for preparing soups, sauces or fondue and the other is a flat surface which is perfect for searing meats or grilling food.
Featuring a thick layer of durable non-stick coating cooking and clean-up is a breeze.
According to the manufacturer, you can use steel wool when washing. Not only do you get a sauce pan and grilling pan in one skillet, it also comes with a steaming plate for rice or fresh veggies.
This all in one model allows you to cook an entire meal in just one pan. The ability to accurately control the heat settings ensures perfectly cooked food.
This model also comes with a tempered glass lid with stay cool handles, which is a great safety feature in homes with small children.
While most models can only reach an average temperature of 450 degrees, this model can reach an impressive 480, allowing you to cook a wider range of entrees.
This model received a perfect consumer rating, making it our top rated product.
Click Here to Read Full Articles for Zojirushi EP-RAC50 Gourmet d'Expert Electric Skillet Review
3. Cuisinart CSK 150 Electric Skillet Review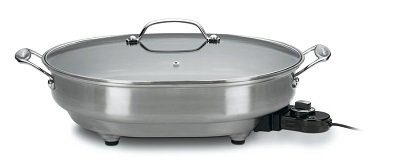 This Cuisinart model allows you to cook a wider range of dishes, and features a sturdy design and accurate temperature control setting.
It's also dishwasher safe, which is a huge selling point for any type of electric skillet.
Simply remove the temperature probe, rinse in warm water and stick in the dishwasher.
The large twelve by fifteen inch cooking surface allows you to cook bigger entrees such as a whole chicken or a large roast.
This model comes with a three year warranty, user manual, and one glass lid and recipe book. Able to handle everyday use, this skillet can quickly replace your oven range.
The versatility of this model allows you to effortlessly and evenly cook complicated dishes, without heating up the whole house.
The skillet's thick and sturdy base ensures that the skillet will not turn over during use.
One minor issues some consumers ran into was the construction of the glass lid, which is listed as domed.
Most consumers have agreed that the lid only features a slight slope, which can be limiting if you want to cook larger entrees such as a roast.
Click Here to Read Full Articles for Cuisinart CSK 150 Electric Skillet Review