The Atlas 150 by Marcato is a manual pasta maker that comes in a variety of colors, although their copper model is the big bestseller. This machine weighs in at just a few pounds and it's compact enough to be easily tucked away in your cupboard when not in use.
Amateur and pro cooks can enjoy creating their own fresh pasta in the comfort of their own kitchen and will no longer need to rely on bags of dried pasta which don't have quite the flavor and texture homemade pasta has to offer.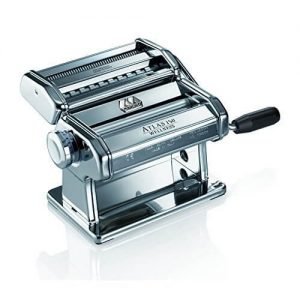 A manual model may not be right for you if you're looking for a pasta machine that can help you to cut down on time spent in the kitchen, but if you're looking for that total authentic pasta making experience, then the Atlas is worth a second look.
A sturdy, almost elegant design, this model offers a more modern take on the classic manual pasta machine design, utilizing reinforced materials, slick cutting tools and a variety of pasta shape options.
Definitely a pleasure to use for most consumers, this machine can give your kitchen a classic look without taking up too much counter space. But as a manual machine it will takes some practice to use in order to get the right thickness and texture of the finished product.
Specs and Standout Features
This machine is available in copper, silver, gold, blue, black, baby blue, pink, green and red. This type of variety allows you to expertly match this machine to the rest of your kitchen décor. The color of the pasta maker is accented with a steel finish that runs along the shaper. You must manually turn the hand crank in order to produce a batch of pasta. The crank is located on the right side of the machine and can be an issue if you're left handed.
If you have minimal strength in your hands or issues such as arthritis or carpal tunnel, then this machine may not be for you. If you have stronger hands and the ability to withstand the resistance, this manual crank model allows you to produce fresh pasta at your own pace and gives you plenty of time to correct any shapes issues during production. And because it's a manual model, you can use it on any surface in the kitchen, without worrying about free outlet space or dragging out an extension cord.
While it's marketed as a manually powered model, the manufacturer has added a bayonet that fits on the opposite side of the hand crank. A motor attaches to the end of the bayonet, allowing you to produce pasta at a much faster rate. This attachment is sold separately.
The body of the machine is made from heavy-duty stainless steel, while the rollers are made from anodized duralumin.
Pros and Cons
Pros: This machine is manufactured in Italy and comes with a ten year product warranty. The ability to make pasta manually or with the use of an electric motor is a big selling point for this model. Keep in mind that the electric motor, like the other pasta attachments, is sold separately. While time consuming, this machine is still very easy to use, all you have to do is pop in fresh dough and turn the hand crank to roll it flat. You can then turn the flat dough into either tagliolini or fettuccine using the included cutting attachment. If you're an experienced pasta maker, then you'll definitely enjoy what this machine has to offer. Once you get your rhythm going, you can crank out batch after batch of fresh pasta seamlessly.
Cons: Some consumers complained that this machine felt a little limited, considering it only allows you to make three different shapes: tagliolini, lasagne and fettucine. And while this machine by itself is designed to make pasta of varying widths, you cannot even make standard spaghetti, which is kind of a big misstep for the manufacturer. If you want to make other pasta shapes you can purchase twelve extra attachments, at an additional price of course. If you love making a variety of pasta shapes, consider the inconvenience and limitations of this machine before you buy. This pasta maker is not dishwasher safe and must be cleaned using a small brush, which makes clean up kind of a cumbersome process, especially after you've spent long hours in the kitchen making fresh pasta.
Consumers also complained that the pasta dough tends to stick to the aluminium steel, which makes clean up pretty frustrating. For many cooks, the thickness setting was kind of tricky and took some getting used to. To adjust the thickness you have to pull the knob out of the machine and then turn it, as opposed to simply turning the knob. When pulled out, the knob has a cheap feel that made most users worry it would just pop out of the machine. Many users also had complaints regarding the finished pasta dough sticking together. In order to avoid this, make sure you remove each batch of long pasta from below the cutters frequently. Keep the formed dough on a cutting board or plate that's well floured, until you're ready to toss them into the pan.
Conclusion and Rating
The sheer quality of this machine is best described by consumers as wonderful. The pasta maker itself is heavy and sturdy, making it seem virtually indestructible. The rollers feature a beautifully smooth finish. When the hand crank is turned you really feel like you're using a pro quality machine. After you get the hang of making pasta by scratch you can try your hand at making delicate pastries using filo dough. Consumers would like to see more pasta shape options included in the package for more versatility without having to pay more. This model received a rating of four out of five stars for pricing, quality materials, ease of use and overall consumer satisfaction. With a few upgrades such as a motor and attachments that aren't sold separately, this product is on its way to receiving a perfect consumer score.

[button size="medium" style="primary" text="I want more information!" link="http://www.amazon.com/dp/B0009U5OSO/?tag=sunnyafternoon-20″ rel="nofollow" target=""]