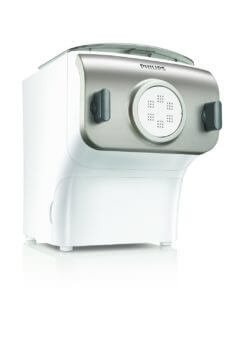 If you love lasagne, fettucine alfredo, spaghetti and pretty much any type of pasta dish you can get your hands on, and if you find yourself using a variety of dry pasta to make these meals, you may want to take your cooking game up a notch and consider making your own pasta using the pasta maker by Phillips.
Chances are that if you've had your first taste of homemade pasta, you're probably spoiled for life. You can't help but notice the difference in taste, tenderness, quality and texture when compared to dried pasta. And it's obvious that meals cooked using fresh pasta take hours to create, which makes you and your family appreciate it even more. But fresh pasta meals no longer have to take you all day to create. Now there is a machine that can create single or double batches of pasta in as little as fifteen minutes.
You don't have to be a skilled cook to get this process down, in fact, you'll only be responsible for cutting and boiling the pasta, which means you'll enjoy pasta that comes out perfect every time.
Once you use this pasta maker, you'll never go back to the dried variety again.
Specs, Features and Extras you'll Love
If you have enjoyed authentic, homemade pasta before, then there really is no question that there is a huge different between fresh and dry pasta. Dry pasta just doesn't have the superior texture and taste that fresh pasta can offer. If you have tried to make your own pasta in the past, you probably gave up because it can be very time consuming, especially if you're feeding a larger family. Not to mention, it probably didn't come out very well and with a questionable texture.
This model by Phillips is a pretty amazing machine. This machine can make pasta that packed with flavour and it can do it in just half the time it would take you to make it the old fashioned way.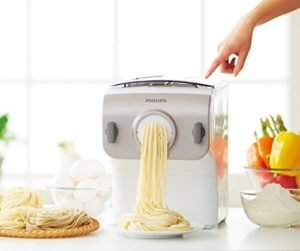 The machine features a nice setup that maximizes space. With a sleek design, this model is definitely a space saver that won't take up much room on your counter. Located on the front of the machine, you'll find dials which allow the cover plate to be removed so you can easily change pasta discs. This removable component also makes clean up a breeze.
Included are four different pasta discs including lasagne, penne, fettucine and spaghetti. Discs can be easily installed in the machine to quickly change up pasta type. For storage, the discs and plastic cutting tool can be stored in a sliding tray located on the bottom of the machine.
If you want more variety you can purchase a four disc accessory pack for more pasta shapes.
A look inside the chamber will display the non-stick kneading paddles used in the pasta making process. When in use, the paddles use two motions to knead and mix the dough thoroughly.
The included recipe book will show you how to make a double or single batch. A double batch is recommended for families of four or more.
Fortunately, this machine also comes with its own flour scoop, making it easy to measure flour for single and double batches. You'll need one scoop for a single batch and two scoops for a double.
The control panel is simple to use and navigate. To start making pasta switch on the power button, press the scoop button to bring up the display for how many scoops will be needed for a single or double batch, then press the play button to start the process.
Once you hit play, the kneading paddles will immediately start turning.
Within just a few minutes the pasta will start coming out of the disc. While it comes out pretty slowly, you'll still need to remain closely by to cut your pasta to the desired length.
If you're making penne you can use the included plastic cutting tool, simply run the tool flat against the disc. This will cut the penne cleanly at the desired length.
Once the pasta is cut up and ready, dump it into a boiling pot of water. Keep in mind that fresh pasta is usually thicker than the dried variety so cooking times are often longer.
Pros and Cons
Pros: Once you get the hang of using this machine you can enjoy fresh pasta daily, within minutes. The machine itself is easy to clean and maintain, giving your pasta the perfect texture each time. Now, authentic fresh pasta will only take fifteen minutes to make per batch. The process is very straightforward, making it simple for new cooks to get the hang of.
Cons: Some consumers struggled with their first few tries and were often frustrated with the slow process, but keep in mind that using this machine can actually cut pasta making time in half when compared to rolling it and cutting it by hand. Another consumer had a complaint regarding the quality of the pasta discs, stating that the fettucine disc was deformed and contained globs of plastic in the wheel which made the disc unusable. When the consumer contacted the manufacturer with this complaint they offered to send a new disc, but the consumer was responsible for both the cost of the disc plus shipping.
Conclusion and Rating
Overall, most consumers can agree that this model is an impressive pasta maker that really cuts down on the amount of time you have to spend in the kitchen. Now that making homemade pasta is so quick and easy, you can enjoy it anytime during the week instead of saving it for special occasions. And because this model features a compact sleek design you can leave it on the counter or store it away for future use. Consumers who purchased this machine gave it a rating of five out of five stars for ease of use, low maintenance, versatility and overall quality, which makes this machine our top rated product.
[button size="medium" style="primary" text="I want more information!" link="http://www.amazon.com/dp/B00REJMIJ6/?tag=sunnyafternoon-20″ rel="nofollow" target=""]