This post may contain Amazon® product affiliate links. We may receive a commision if you make a purchase after clicking on one of these links but at no cost to you. Please visit Our Disclosure Page for more information. Thank you.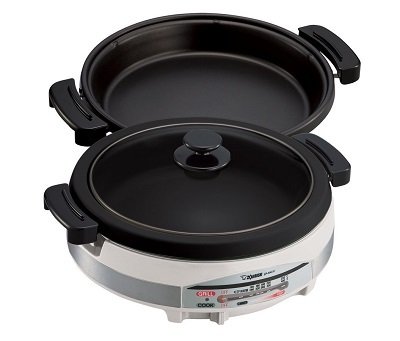 The EP RAC50 gourmet D'Expert electric skillet by Zojirushi is a multifunctional model that once you cook with, you can't live without it. This skillet is equipped with a couple of cooking plates, a flat plate for grilling veggies and meats and a deeper pan which can be used for sauces, fondue or soups.
Non-stick coating has gotten a bad name ever since research has shown that Teflon coating contains harmful chemicals that can lead up to serious health issues including cancer. But don't be quick to write off all types of non-stick materials.
The Perfect All in One Skillet
While cooks who are pro non-stick coating still complain about the delicate makeup that requires them to use only plastic or wood cooking utensils, this manufacturer has found the perfect combination of safe to use non-stick coating that's also durable and even able to withstand a steel wool scouring.
Electric skillets are perfect for simple meals for one, or they can be used as an alternative to dealing with all the clean-up that comes with using your stove. They can also be the perfect solution if you're traveling or camping or if you need more cooking power when preparing a large meal for the holidays. But most models of electric skillets aren't really made to handle a lot of rough use and can't be relied on daily.
They are also considered the ultimate breakfast machine, allowing you to cook perfect bacon, eggs, sausage, French toast or pancakes, all without having to heat up the whole house. Electric skillets are also perfect for cooking a large pot roast on a lower setting.
This model by Zojirushi makes cooking a joy and consumers can't rave enough regarding the ease of use, overall functionality and the durability that truly makes this a must-have appliance for any kitchen, big or small.
Specs and Features
Not only do you get a grilling style pan and a sauce pan in one, but this model also comes with a steaming plate that allows you to steam fresh veggies like a pro. Perfect for grilling, the flat pan features a ceramic surface with a thick layer of non-stick coating that's been enhanced with a thin layer of titanium for extra durability. A tempered glass lid is the perfect addition to this all in one style skillet and allows you to keep a close eye on your food.
The stay cool handles located on the side of the skillet allow you to safely handle the pan while cooking. Cooking temperatures are adjustable from a range of 176 to 480 degrees.
Pros and Cons
Pros: With a thick layer of non-stick coating that's described as indestructible, you can cook with your favorite metal cooking utensils without worrying about scratching the surface. The manufacturer has also designed this model to be slightly different than the electric skillets from their past line, allowing you to cook larger meals with ease. The temperature adjustment knob is very sensitive, so you can accurately adjust the settings. The even heat distribution this pan offers means evenly cooked food and a cooking surface that's not riddled with hot spots. Consumers loved that the manufacturer used a simple non-stick coating that's not Teflon. The coating used in this pan does not contain harmful chemicals as Teflon does and it's sturdier and easier to clean. The pan's ability to heat up to an impressive 480 degrees is a rare thing for an electric skillet and one of this model's biggest selling points. Each removable pan is easy to wash and transport to the cooking area. The pans themselves are lightweight. The heat is distributed evenly, thanks to the large cooking disc. Consumers also noted that the detachable cord is significantly longer than what the average electric skillet comes with. The control slider is visible while cooking and easy to adjust. All in one meals are pretty popular these days because they are easier to cook and require less clean-up and ingredients. Now imagine the added convenience of making in all in one meal using this electric skillet? The possibilities really are endless. The five year product warranty gives consumers confidence in a product the manufacturer will stand behind for such a long length of time.
Cons: The pans slightly slope along the outer ledges, which means you'll need to use more oil in order to compensate for the depth of the oil in the center of the pan. If you try to cook with less oil it can be pretty tricky because the oil will gather along the edges. One consumer complained that these pans scratched very easily. A replacement pan for this model will cost around eighty dollars per pan. If you receive a defective model, you must send it back to the manufacturer in order for the pan to be evaluated and determined whether the defect was caused by the manufacturing or delivery process. While listed as a pro for this model, some consumers felt that the temperature slider was too sensitive, making it easy to inadvertently adjust it. Another consumer mentioned should you drop food outside of the removable pan, it falls into a tight groove, making it inaccessible while cooking. A solution to this is a design upgrade that would allow the inner bowl to be removed. Many consumers who dealt with the customer service team felt that the staff was rude and unhelpful. One consumer reported that it took over a week to receive an email response regarding warranty coverage.
Conclusion and Rating
With such positive feedback from consumers, it's easy to see why this model was given a perfect five out of five star rating, which makes it our top rated product. A must-have appliance on any camping trip or use it for those special dinners and on holidays when extra cooking surfaces are needed, this model has it all, including a durable design that allows you to cook with this beast for several years to come.
[button size="medium" style="primary" text="I want more information!" link="http://www.amazon.com/dp/B001KVZZGC/?tag=sunnyafternoon-20″ rel="nofollow" target=""]