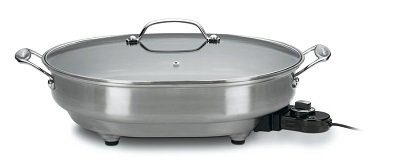 The CSK 150 electric skillet by Cuisinart is considered versatile, sturdy and elegant.
The included temperature controller can adjust from the lowest reheat setting, to an impressive 450 degrees. Not only can you cook a wider ranges of dishes on a model that can reach these impressive temperatures, but it's also dishwasher safe, a unique time saving feature that makes this model worth every penny.
Cuisinart is a company that has an impressive reputation in the home appliance world. Producing only the best for your kitchen, this is a company that most consumers have come to depend on and their latest electric skillet model does not disappoint.
There are many competing models of electric skillets on the market, many of which try to outdo each other by adding unnecessary extras or focusing on amenities that don't even work. This model keeps its eyes on the prize and delivers exactly what it promises: a skillet that will cook your food quickly and evenly, each and every time. Many cooks tend to pass the electric skillet on by in preference of electric griddles, but the beauty behind the skillet is the sheer versatility that allows you to cook a variety of dish types including sauces, stews and large entrees, utilizing the high sides of the pot in addition to the flat cook surface.
A product that will change the way you feel about electric skillets, this model received plenty of praise for its outstanding performance and reliability.
Specs and Features
The temperature probe can be easily removed, prior to placing the skillet in the dishwasher. If you've used your old cast iron skillet for the past several years, the odds are the idea of an easy to clean, lightweight skillet that cooks like a dream has grabbed your interest. This model can cook a variety of dishes ranging from pot roast to pancakes and this type of versatility, combined with easy clean-up is exactly why amateur and pro cooks alike are hitting that order button to add this exciting new model to their cooking arsenal.
This model offers 1500 watts and provides a twelve by fifteen inch cook surface, which allows you to tackle those bigger recipes with ease. The cooking surface itself is made from a brushed stainless steel.
The indicator light and temperature control dial allows you to easily and effortlessly adjust the temperature from warm up to 450 degrees.
In addition to a larger than average cooking surface, the sides of the pan are also higher than what you can expect from your run of the mill electric skillet, measuring in at two and a half inches. This height is essential for cooling larger meals so you to slow cook and simmer large meals without the worry of the ingredients splattering.
The glass see through lid allows you to keep a closer eye on your meal, gauging which cooking stage it's in without removing the lid. The glass lid is also equipped with a stainless steel rim and large handles that make it easy to carry.
Featuring a three year product warranty, this model also come with an extensive user manual that details cleaning instructions and several recipes you can try.
Benefits of Cooking with this Electric Skillet
The classic cast iron skillet doesn't allow you to cook things like grilled cheese sandwiches, French toast or pancakes, but with this electric model they cook perfectly. So why is this model so much better than the cast iron pans of old? For one, this model will heat food evenly. When you use traditional pots and pans you tend to get hot spots, but this electric model heats the cooking surface evenly.
You can set this pan to 350 degrees and it will stay at that temperature. There will be no temperature variations like you can expect when cooking on a stove top. Now you can enjoy cooking meals at a consistent temperature without doing a thing.
You can also cook more food at once, which is the perfect solution for large families. Now you can cook between six and eight pancakes at the same time. But in order to do this on your stove top you would need to use several pans.
Electric Skillet vs. Electric Griddle
There has been some debate over which appliance is better, the electric griddle or the electric skillet. The skillet has sides and because it has sides it's actually considered more versatile. You can cook fried potatoes, hash browns, fried rice, or pot roast. And because skillets are often larger than griddles you can cook more food at once.
For the avid cook with a smaller kitchen, it's never easy finding the type of storage needed for an appliance like this, but many users have found that they use this skillet so often that it's more practical to leave it on their countertop.
Pros and Cons
Pros: Described as a real workhorse, this model features a sturdy, solid base that prevents the skillet from tipping over. The non-stick surface performs better than expected and can withstand rough use. Now, you can fry chicken or pork chops without creating a mess on your stove. This versatile model features an oval design that can easily hold a whole chicken with room to spare.
Cons: Consumers noted that the glass lid is only slightly domed, which can make it difficult to cook certain dishes. Some consumers complained about the length of the cord, but it's designed at this length in order to prevent the cord from catching, which could result in upturning the skillet.
Conclusion and Rating
A king among kitchen appliances, this electric skillet received a high consumer rating due to the sturdy construction, easy to clean cooking surface and overall quality. Consumers who purchased this model gave it a rating of four and a half out of five stars. Definitely a major step up from Cuisinart skillets of the past, you'll enjoy cooking your favorite meals in a pan that cooks food to perfection in half the time and with minimal clean up required.
[button size="medium" style="primary" text="I want more information!" link="http://www.amazon.com/dp/B0002YE6I6/?tag=sunnyafternoon-20″ rel="nofollow" target=""]