This post may contain Amazon® product affiliate links. We may receive a commision if you make a purchase after clicking on one of these links but at no cost to you. Please visit Our Disclosure Page for more information. Thank you.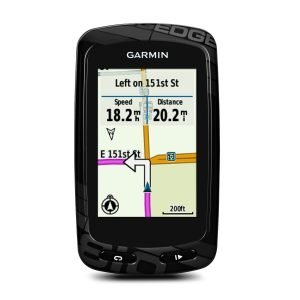 The Edge 810 GPS by Garmin features ride sharing and instant upload capabilities, live tracking, weather updates and social network sharing. It also offers performance monitoring, ride data including heart rate, time, distance and speed and location. The customizable touchscreen user interface allows you to view important data, quickly.
Garmin Edge Assessment
The easy to navigate button layout consists of just the lap and reset and start and stop triggers located on bottom of the device. The color touchscreen is backlit and very intuitive. On the back of the device you'll find a quarter-turn mount interface in addition to covered ports for a USB plug. This can be used for data transfer, software updates and recharging. You'll also find a mini SD slot which can be used to add topographical maps and optional navigation.
Many consumers who purchased this model were expecting a major redesign, but this GPS simply features an incremental update compared to past Garmin models with no major redesign. That being said, the new user interface is a step up from the Garmin 800 model.
This model will allow users to predefine up to five associated sub categories and ten bike types. For every sub category you are allowed up to five screens of data, each with ten fields in addition to elevation, course, virtual partner screens, maps and workout.
The home screen will allow the user to select activity and bike type quickly with the corresponding paired accessories and data screens that are customized to match.
You can configure it to see percent grade and elevation information for basic road riding, but you won't be able during cross races. The time trial racer can set up an additional category with just speed and power output if desired.
Every category can also be configured with associated wireless accessories such as heart rate straps, power meters and cadence and speed sensors.
There is still a large amount of configuring to do, but at least the user will only have to configure everything once. At the initial start-up, just select the bike type and ride type, hit the ride button and head out. Once you're done, this model will offer some impressive feedback based on stored ride history and personal notes.
The touchscreen is fairly responsive even if your hands are wet or you're wearing gloves and it's pretty easy to select and swipe, thanks to the large screen. Some consumers were disappointed that the manufacturer didn't bother to upgrade the screen resolution, which still seems somewhat crude and grainy for the price. Even after choosing several setting variations, you can still have trouble making out the display in very bright light.
On the Garmin Connect database the user will be able to search routes and courses, which can be downloaded to the device via smartphone use.
The automatic weather alert system is a pretty slick feature that can come in handy for riders who are planning on a long ride. This system will automatically send an alert to the Edge if a weather event is predicted in your general location.
This model comes with the Out Front mount, which is made from a molded plastic with rubber inserts and a hinged clamp. This mount is compatible with 26 MM and 31 MM handlebars and comes with a quarter turn interface that can be rotated a total of ninety degrees.
Bike Computer Pros and Cons
Pros: The biggest upgrade for this model is the addition of a dual band Bluetooth plus ANT wireless chip, which enables the user to connect the device with both Android and iOS phones using the Garmin app. Pairing the devices is described as a very easy and straightforward process. Once you've finished a ride the app works to automatically upload the file wirelessly. However, you'll need to log in on your tablet or PC to insert notes or edit ride titles, which isn't a huge deal. The manufacturer has also integrated social media into the wireless upload capabilities. Once the data transfer has been completed from the device to your smartphone, you'll be able to share ride info on Twitter or Facebook. You can also send it via email. The model's popular Live Track feature will share ride progress in real-time.
Cons: Unfortunately, the manufacturer only includes a very basic map with this model, so if you're looking for detailed topographical data or turn by turn instruction, you'll be disappointed. However, you're still able to upload your own maps by downloading a map in a JPEG format and accessing Google Earth in order to align the coordinates. Because of the Bluetooth wireless connectivity, the battery life on this model is lower than past models at seventeen hours.
Some consumers felt that the Out Front mount didn't have a sturdy feel and felt cheap compared to other mounts offered by Garmin in the past. While the mount does offer improved visibility compared to a stem mount, most consumers were still disappointed in the mount's lack of quality. It can be difficult to get the narrow clamp mounted just right and square on the handlebars and the 810 is slightly rotated because the mount itself sits off axis.
Consumers who felt disappointed in the lack of bells and whistles this model was unable to deliver chose the Magellan 505 GPS Cyclo computer for more versatility and overall functionality. This model is also offered at a comparable price.
Garmin Conclusion and Rating
Many consumers had high expectations for this model, but in some ways this bike computer was a big letdown, especially considering it's priced pretty high but doesn't have enough updates compared to past Garmin devices to justify the steep pricing. However, the manufacturer has made some important improvements as far as overall usability. The associated smartphone apps and new wireless communication also provides some handy features, which makes using Garmin Edge 810 GPS a seamless experience. Consumers who purchased the Edge gave it a rating of four out of five stars for battery life, social media interaction and overall usability.
[button size="small" style="primary" text="I want more information!" link="https://www.amazon.com/dp/B00APBMNQ8/?tag=sunnyafternoon-20″ rel="nofollow" target=""]