The 505 GPS Cyclo computer by Magellan is a powerful model that's designed for the serious cyclist. This model features a bright three inch color display screen that can be easily viewed even in bright sunlight. It's also water resistant and features out front and cable tie mounts, an easy to use interface and large buttons for fast navigation. Offering outstanding sensory support and a number of features that allow you to test your cycling abilities, this is a challenging model that received a lot of positive consumer feedback due to its sheer versatility and overall quality.
Cyclo 505 GPS Rundown
This model features Bluetooth connectivity and is compatible with both Android and iOS devices. The Cyclo by Magellan is also compatible with Bluetooth headsets which will allow them to set up automatic response or answer incoming calls. Users can also control music playlists via headset or directly from the device.
This model provides wireless connectivity which makes uploading music easy. Whether you're at home or on the road, the Cyclo is able to transfer data to the manufacturer's website, no PC needed.
Users will control this unit in a manner that's similar to a smartphone. It features a single home button located on the bottom of the device, while all the other functions and features are controlled using the color touchscreen. The home screen includes six main panels, however the overall design looks rather amateurish.
Setting up the directional mapping is easy, simply point to a spot on the map and go, or you can enter a destination. The device will emit beeps in order to alert you of upcoming turns.
The user can decide what type of trails, paths or roads they'd like to take, depending on the bike or desired ride routes. The user will also have the option of saving these routes to an individual bike profile, so the ride can vary depending on the type of bike the rider is using that day.
Some users mentioned that when following the directions using the GPS, they were directed to take unusually hilly routes or make illegal turns, but the device does manage to avoid road blocks and will guide you toward cycle specific paths.
The biggest benefit cyclists experienced when using this device is being able to use directional mapping to follow a route that was found online and saved to the device's internal memory. Users will also have the ability to share their ride routes with friends and family members who also use the Cyclo.
A great feature is the ability to switch the GPS to car mode, which is perfect for drivers who don't currently have a GPS for their vehicle.
Users who just don't know where they want to ride can check out the surprise me feature, which allows the device to create a loop route based on desired ride time, distance and current location. This is definitely a handy feature for cyclists who are new to the area.
When it comes to connectivity, users will need to ensure that they're getting the settings right, otherwise the device will frequently experience interruptions caused by traffic lights and other ANT signals in the immediate area.
The smartphone compatibility is another big advantage offered by the Cyclo and it's compatible with both iOS and Android models. This allows the user to decline or answer incoming calls and receive text alerts.
A recently added features is the D i2 compatibility, which means the device can communicate with the gears to alert you to gear choice and battery life, in addition to recording and saving this information for later use.
The device's Wi-Fi capability will allow the user to upload their rider data on the manufacturer's website. This software is compatible with both PCs and Macs, however browser compatibility is severely limited to Safari and IE. This is a big downside for users who enjoy Google and Firefox. However, this type of limitation did not seem to affect the popularity of this model.
Cyclo Pros and Cons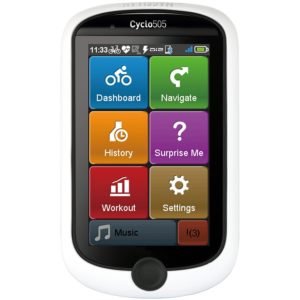 Pros: This model features a water resistance rating of IPX7, meaning it can withstand heavy showers. There's also a built-in rubber screen protector for added safety. This model comes with two mount options: the Out in Front model and the standard stem mount. The stem mount will attach using zip ties while the Out in Front model will secure the device in a more central location.
Cons: Unfortunately, this model only has a battery life of twelve hours, which for many users is very disappointing. Some consumers noted that even when the device was used as a training tool without mapping, the battery life seemed to disappear very quickly. Some users felt that the standard stem mount was rather weak compared to a basic reusable O ring system. Other users had complaints regarding the quality of the plastic Out in Front mounting option. This is a common complaint and this is the same type of mount used on many models of GPS devices in this price range.
If you're looking for a model with more customization and mounting options, consumers recommend the Wahoo ELEMNT GPS bike computer.
Magellan Bike Computer Conclusion and Rating
The Magellan 505 GPS Cyclo Computer is a decent unit that's designed to suit both off and on road users and it offers enough interval training features to be used as an effective training tool. However, its mapping functioning will also be appreciated by all user levels, especially by those cyclists who enjoy exploring. The overall weight and the battery life are probably this model's biggest weak points, but considering the price is much more reasonable than models that offer similar features, there is no going wrong with the 505. This is a device that will truly put your cycling skills to the test. Consumers who purchased this model gave it a rating of five out of five stars for easy setup, navigation and the training and customization options. Currently the 505 is our top rated product.
[button size="small" style="primary" text="I want more information!" link="http://amzn.to/2qNHOMF" target=""]