This post may contain Amazon® product affiliate links. We may receive a commision if you make a purchase after clicking on one of these links but at no cost to you. Please visit Our Disclosure Page for more information. Thank you.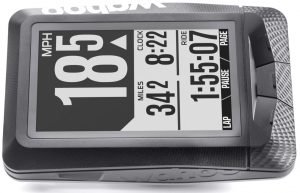 A bike computer isn't for everyone, but it's a must-have accessory if you've just moved to a new area or enjoy riding to new territories on the weekends. But these devices do so much more than just tell you where you are. This model by Wahoo is a highly accurate and functional bike computer and one that focuses on challenging the rider by recording important metrics such as speed and distance. Now, you'll have a personal cycling trainer and GPS system in one and can work on challenging yourself each time you ride.
Wahoo is a company that's quickly gaining a reputation for producing reliable, innovative electronics for the avid cyclist. Not only is this well-rounded device packed with all the features you'll need to ride, train and explore, but it's also available at a more affordable price than other bike computers that include many of the same features. This company is quickly breaking the stereotype of the average bike GPS. This model offers dual band technology and a simple user menu that allows you to easily customize your riding experience. Not only can you track your performance, but you can also share your results.
Considered a modern bike GPS due to the tons of features it has to offer, the Wahoo ELEMNT can be easily configured to work with your smartphone and comes with a sensible zoom for all pages in addition to Wi-Fi Bluetooth uploads. With more than satisfying functionality and ease of use, consumers can agree that this model is one of the best bike GPS and trainer models around.
ELEMNT Overview and Features
The ELEMNT is an exciting new product that's designed for use by the amateur and pro alike.
This model features a wealth of metrics including heart rate based numbers, power, time, distance and speed.  This model connects via ANT to smartphones with Bluetooth and your home network.
Unlike other models that are useless without the use of a smartphone, this model is a standalone GPS bike computer or sorts. In order to set it up, you'll need an Android or iOS device. Configuring each of the pages is a breeze, simply navigate using your phone and drag what you want in the appropriate place and this model will change to match. Not only is this model much easier to configure compared to other GPS bike computers, but it also offers a quick way to view all your options. Keep in mind that a smartphone is a must-have device in order to set up the page configuration, so if you don't own a smartphone then this model isn't for you.
Individuals who enjoy using Strava will truly love this model. ELEMNT offers some cool integration including uploads of Strava routes. Users can also associate their Strava account with ELEMNT, allowing for automatic ride uploads to also populate that site.
This model will also deliver alerts for emails, phone calls and texts.
This device features a few main screens: map, climb and workout. Once the user has set up the hierarchy of essential fields they can zoom in or out to check out less or more data. The user can also create their own additional screens.
When it comes to live tracking, the manufacturer has really pushed the envelope and boasts the ability to show users where their friends with ELEMNTS are located in real-time.
This model comes with three mounts, TT, stems and Out Front. The Out Front model is described as somewhat wiggly.
The manufacturer claims that this model features a seventeen hour battery life, which is pretty impressive. Most consumers stated that a six or seven hour bike ride took up only about fifty percent of the battery.
GPS Bike Computer Pros and Cons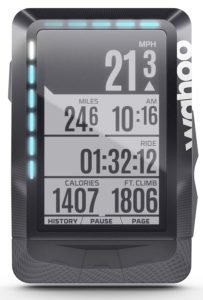 Pros: This model is equipped with LEDs on the top and side of the unit, which can be easily configured to flash when you go below or above the target pace. The device features built-in GPS for distance, speed and other related metrics, but you can connect it to cadence or speed sensors for improved accuracy. This model is available alone or as a bundle with the heart monitor. The simple three button design handles most of the functionality, with the up and down buttons working to fine tune the display by zooming in or out or by showing fewer or more data fields.
The buttons on the side of the device are easy to press even when the user is wearing gloves.
Cons: Unfortunately, the display screen for this model is not color and is only available in black and white. This model comes with Open Street Maps, which is pretty decent, but the navigation is inferior compared to how other models in this price range perform. This device does not offer alerts or turn by turn directions, it simply highlights the route you need to follow and will begin to flash red if you happen to wander off course.
For some, the lack of robust navigation and the sheer size is a little disappointing and it puts this model behind the Garmin Edge 810 GPS computer, which is offered at a comparable price, although it does feature less impressive mounting options.
Overall, many avid cyclers felt that this model was a little limiting and still had some growing to do in order to improve accuracy and mapping options.
Wahoo Conclusion and Rating
The Wahoo ELEMNT GPS Bike Computer features great functionality and exciting new features such as the ability to zoom in and out of every page. Unlike other models in this price range, this device doesn't drop ANT signals, which can be frustrating if you're biking in an unfamiliar area. The manufacturer's innovative designs and eagerness to continuously improve their products is encouraging of new and exciting things to come. With innovative features and great functionality, consumers agreed that this is one of the more dependable bike computers on the market. Consumers who purchased this model gave it a rating of four and a half stars out of five stars.