This post may contain Amazon® product affiliate links. We may receive a commision if you make a purchase after clicking on one of these links but at no cost to you. Please visit Our Disclosure Page for more information. Thank you.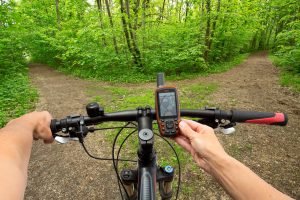 GPS has found its way into many electronics throughout the years and can now commonly be found in cameras, phones, cars and bike computers. While in the past, GPS devices were too pricey and offered a poor battery life, new models are much more reliable and affordable and offer a ton of features that consumers have only dreamed of.
Past models of GPS devices for cycling were mainly for riders who needed some trail guidance and navigation. But their usage has changed significantly and now these devices combine navigation, bike computers and heart rate monitors in one. GPS can now be used as a dedicated training tool and ride tracker, offering the user a ton of other features that can really improve their cycling experience.
If you're looking for the best bike GPS , while price is important, you should choose a model based on its accuracy, battery life, training tools and smartphone compatibility.
Bike GPS Buying Guide
When deciding on a cycling GPS, the biggest question is whether you want the device to track your ride and provide you with biking data after a ride or if you want a model that will guide you during your ride.
Typically, forward seeking models tend to cost more because they offer features such as additional storage, built-in maps, navigation software and a larger display screen.
Backward models are more popular these days and provide live data that many cyclists need, in addition to the option of a ride analysis once the ride is over. Unfortunately, they don't provide detailed navigation information.
Models that offer directional guidance and mapping have truly come a long way. The accuracy of the GPS has much improved and will work to guide you perfectly to your desired location. Many models also offer downloadable ride information that can allow you to safely explore new routes and paths.
Smartphone connectivity is pretty popular with these devices. Most models offer Bluetooth connectivity and share information that's compatible with smartphones. Such features as spoken directional mapping, music control, text alerts and incoming call alerts, in addition to ride data uploading to the cloud, are also now available.
How the device attaches is an important feature that's often overlooked. Most models will attach to the stem or handlebars of the bike, while others can be worn on the wrist. Wrist models do not offer an optimal viewing experience while cycling.
Typically, the more common the brand of GPS the more mounting options available. Garmin is one of the top manufacturers of bike computers and features a ton of different mounting options that will allow you to decide where and how the device is mounted to your bike.
The larger the display, the easier the computer's data will be to read. You will also be able to view more information on the screen without having to scroll. Of course, the downside of a bigger display is the increase in the weight and size of the device. Ultimately, you'll need to weigh these pros and cons in order to pick a model that best suits your needs.
If you want a navigational GPS, resolution and screen size will be very important. Being able to see the desired waypoints and route is crucial, so screen sizes of three inches or larger is fairly common. For this type of bike computer the display is often in color for obvious reasons. Touchscreen models are also pretty standard on new models because they can work to simplify selecting desired data and toggling menus.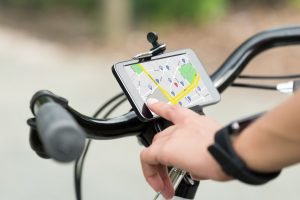 In the past, performance riders would have to use a heart rate monitor watch, power measuring device and cycling computer. These days, GPS units offer a display and receiver for all of this info and all in a more compact device.
Many of these GPS devices use Bluetooth and/or ANT wireless technology. This will allow for the use of additional accessories including cadence sensors, power meters and heart rate straps. Several of these devices also feature a bundle option, which will include speed sensor, heart rate strap, cadence sensor and other training monitoring accessories.
Power meter, speed, distance, cadence and heart rate compatibility is pretty common with most devices that use ANT protocol. If you're serious about your training we recommend purchasing a bundle.
These devices can be synced to your Mac, PC or smartphone. Once synced these devices can provide a detailed analysis of your ride and route. Brand specific apps such as Garmin Connection feature an easy to use interface that allows you to quickly and easily log and upload ride information.
Other apps, such as Strava are also becoming increasingly popular and offer many of the same cloud based features, as well as the ability to compare your stats to the stats of other users if you enjoy a little competition.
Everyday riders, just like performance riders, probably don't need navigation but can definitely benefit from much of the other info available. Everyday riders will need features such as cadence, speed, heart rate and distance, while a performance rider can use features such as detailed power output analysis, segment racing and auto lapping. But many everyday riders are finding navigational based devices useful because they allow them to discover and try new routes in their area.
The Cyclo 505 by Magellan is an example of a top selling model that features the latest technology GPS has to offer including preprogrammed rides and directional mapping.
A GPS device is a must if there is either many possible paths or no obvious paths, especially in low visibility conditions when the rider is not able to spot any landmarks. The user will be able to download important route data via online networks. Some devices even feature information about nearby bike stores, hospitals, cafes and other destinations, which will come in handy when you're riding somewhere new. For this type of riding, even basic units without detailed maps will offer a digital compass. Higher priced models will feature detailed topographic maps or pre-loaded off rode routes that are popular.
Having one of these devices can also come in handy during an emergency. The GPS will allow you to tell emergency services your exact location based on the GPS coordinates.
Models marketed as touring GPS devices have recently popped up on the market, from both Magellan and Garmin. These devices can offer greater direction and mapping capability, in addition to increased battery life. Some models use replaceable batteries, although rechargeable lithium batteries are more common because they weigh significantly less.
The touring rider who is serious about cycling will use solar technology or a hub generator to keep the batteries of these units charged. An external battery expander is also an option if you're looking up directions for an overnight journey.
In developed countries, digital map coverage is still limited, or at most, bigger urban areas of developing countries, the majority of cyclists will not find any flaws in the overall functionality of these devices.
In more rural parts of the world, the rider may struggle to obtain good quality maps, just like they would struggle to find a good quality paper map.
The touring based bike computer will offer a wide range of features that a town rider can also find useful, however, using a smartphone can prove just as effective for the causal cyclist.
If the rider is after navigation, distance or even basic speed, there are a ton of smartphone mount options that will allow them to attach a phone to their bike.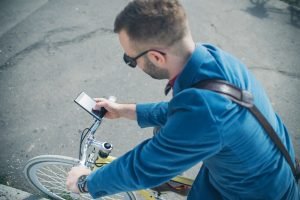 Multi-sport riders, just like performance riders, will likely be after power data, cadence or heart rate. But as they do more cycling they may want to be able to use the GPS unit for other sports such as walking or running.
Some of the major brands are purpose designed for individuals seeking a device for running, cycling and other types of sports. This watch style unit can typically be unclipped from the bike mount and clipped onto a wrist strap, making for one quick transition. But the major downside of these multi-purpose devices is the smaller display screen, which can make it difficult to view maps or even see important data.
As with most things bike and technology related, it will all boil down to the types of features you think you'll use and the amount of money you're willing to spend.
If your budget isn't an issue, then check out some of the popular models offered by Garmin. The Edge is a well-rounded model that offers a ton of features and allows you to easily communicate with your smartphone and these GPS models feature some truly impressive navigational capabilities.
Like any type of purchase decision for the avid cyclist, you should also consider the weight and size of the unit you're interested in. And you may also want to think about whether a monochrome or color screen is right for you. Many cyclists have stated that color displays are more difficult to view in bright sunlight, however, other cyclists have claimed that vision quality is rather poor on monochrome models. It all really boils down to personal preference. Keep in mind that monochrome models are usually priced more affordably.
Popular Training Features to Look for on Cycling GPS Models
These devices are the perfect way to train smarter and harder. When you're shopping around for a new model there are several key features to look for including altitude, calories, cadence and distance.
The altitude meter will provide the height above sea level. Of course the calories sensor will report the amount of calories burned during a ride based on your pace and the amount of distance covered. This is a great feature to have if you're currently following a weight loss program because it can allow you to accurately determine the amount of allowed calories per day based on the amount of calories you burned during a bike ride. The cadence sensor provides the number of RPMs or crank revolutions per minute. This is definitely helpful when it comes to determining what your optimum leg speed is. Speed analysis is a must-have feature that's crucial for cyclists who are training for a race. This feature will report both your average and current speed.
Bike GPS Comparison Chart
Garmin Edge 810 GPS Review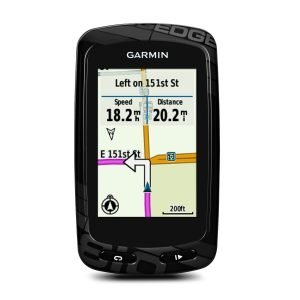 The Garmin Edge 810 is a popular GPS model that features weather updates, live tracking, location, speed and distance, not to mention social networking. This device features a large color display touchscreen, mini SD slot, and quarter turn mount interface. The cyclist can add ten bike types and five sub categories, allowing for a variety of riders to use this model, and it's also perfect for the cyclist who uses many different styles of bikes. Considered a very dependable model and one of Garmin's top sellers, it's easy to see why the 810 did so well with consumers.
Magellan 505 GPS Cyclo Computer Review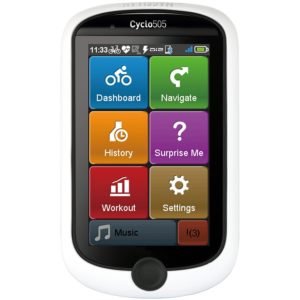 The Magellan 505 Cyclo is another popular, powerful device that features a large color display screen, two mounting options, impressive sensory support and several training features, which is what makes this model perfect for the serious cyclist who wants to closely monitor their training progress. It's also a great model for the novice who's looking to get in shape.
Wahoo ELEMNT GPS Bike Computer Review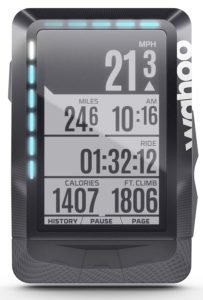 The ELEMNT by Wahoo is a bike GPS with a lot to offer. Packed with a ton of features, this model is compatible with both iOS and Android devices and features zoom capabilities for all pages. This device is also compatible with Strava, a popular fitness training app that allows you to compete with other cyclists. This model also comes with a total of three main screens including climb, map and workout. This type of versatility and customization, in addition to the reasonable pricing, is what makes this Wahoo model a bestseller.