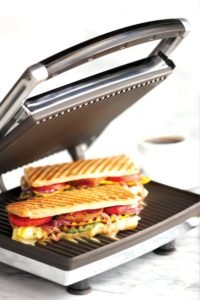 Who doesn't love a good Panini? These sandwich press devices have gained popularity over the last few years because they allow you to throw together a healthy meal in just minutes. But many models on the market these days don't offer much versatility, which tends to make consumers hesitate and turn to larger, more versatile models that will allow you to make a variety of dishes, not just hot sandwiches. But this model by Krups may be just what you've been searching for, if you want a machine that specializes in Paninis but is able to make so much more.
The FDE312 Universal grill and Panini maker is designed to make the perfect Panini and a variety of other foods, fast and with minimal clean up required. This model comes equipped with a floating hinge design that works to accommodate varying bread thicknesses. It also features an attractive metal finish and non-stick cooking plates that make clean up and maintenance a breeze.
Panini Maker Overview
The Panini press features a convenient locking latch that keeps the device closed, allowing you to store it in an upright position if you're short on space. The thermos-insulated handles stay cool to the touch for safer handling. This model also features cord storage located under the machine.
This model by Krups allows you to spend less time in the kitchen and more time enjoying your meal with your family. Before you use the sandwich maker for the first time you'll need to lightly coat the non-stick plates using a cooking spray or oil. Initially, the grill may produce an odor during the first use.
Cleaning and maintenance for this model is fairly easy, unfortunately, the grill plates cannot be removed for cleaning. This model cannot be placed under water or fully immersed. To clean, just wipe the exterior of the machine and grill plates using a warm soapy cloth. Wipe dry and store. Be sure the safety latch is securely in place before storing. The cord itself wraps nicely into the cord hooks located on the bottom of the machine.
When in use, make sure you center the sandwich and the top of the grill's surface. Also be sure you wear oven safe gloves during use as this model can get extremely hot.
The innovative design will allow you to make so much more than Paninis. Users will enjoy grilling French toast, a variety of sandwiches, burgers, grilled salmon, chicken and more.
This model also comes with a one year product warranty on all parts.
Heat up time ranges from three to five minutes. This model offers 1500 watt heating, for balanced, faster cooking and a sleek chrome finish that can blend well in any kitchen. This sandwich press also comes with a free recipe book that's packed with a ton of sandwich ideas that you'll love trying out.
Panini Maker Pros and Cons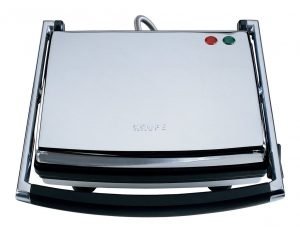 Pros: The Panini press allows you to make delicious, fast and healthy meals in just minutes. This model can also be used to cook much more than sandwiches such as fish, poultry and steak. Considered a very versatile model, consumers loved that this machine comes with a free pivoting grill and the fact that the machine itself is large enough to accommodate sandwiches with a variety of thicknesses and allows you to cook a couple of sandwiches or even steaks, at the same time. It's also affordably priced and comes with a one year product warranty. Easy to operate, simply plug it in and wait for the product to heat up. A green light will turn on once the machine is at the perfect temperature.
The floating hinge system allows users to modify the device in order to accommodate the food's thickness, which promotes even cooking. The overall design of this model will enable the user to create a wide variety of foods including patty melts, burgers, grilled fish and chicken and even pork chops. The grill design for this model is actually different compared to other sandwich presses in this price range since the plates that come with this machine are not ribbed and are instead completely flat.  The included locking mechanism will allow consumers to safety store this unit in an upright position, which makes it perfect for users who are short on storage space. You can also choose to leave it on your countertop as it doesn't take up much room.
Cons: Many consumers have reported that while happy with the cooking performance of this machine it suddenly stopped working after a few months. This short life expectancy is a common complaint from consumers. Some consumers felt that the problem involved the heating fuse, which can be replaced.  Other users had complaints regarding the latch, which is described as flimsy and cheaply made. Many users reported that the latch broke during the first month of use. According to consumers, this model has a lifespan of six to ten months. Consumers who contacted Krups regarding these issues were told to just purchase a new one. Many consumers can agree that their customer service experience was horrible. Individuals who are looking for a more dependable, powerful model can check out the Waring professional grade Panini grill, which received a higher consumer rating and is available at a comparable price.
 Krups Conclusion and Rating
This KRUPS FDE312 Universal Grill and Panini Maker has some potential when it comes to design and heat distribution. The overall design makes maintenance, storage and cleaning easy, but many consumers may be too concerned with this model potentially malfunctioning to pay attention to what it really has to offer. Consumers who purchased this machine gave it a rating of three out of five stars for easy cleaning and maintenance, but the manufacturer is really missing out on potential sales by not addressing the heat fuse issue or taking any extra steps to ensure this type of design failure doesn't occur again with other products in their Panini line.
View Panini Makers on Amazon