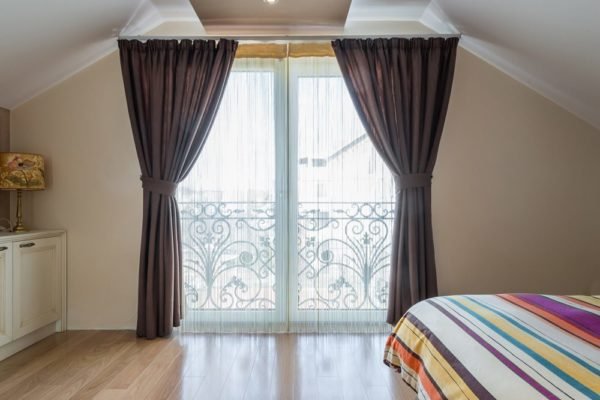 Blackout curtains, blinds and linings can reduce outside light from seeping into your room due to the extra tightly woven materials and special treatments used on the product, which can help you reduce the light levels in your room.
You can used blackout curtains, blinds and linings the same way as standard curtains. These products are designed to block outside light from entering, thus making them a perfect solution for use in a bedroom
For people who work night shifts or experience health problems due to complicated sleep habits, blackout curtains can block out invasive daylight and can create a night-like atmosphere to enhance sleeping conditions. Blackout curtains can be effective for people living in northern territories where daylight can extend twenty or more hours a day. They can also be used to create complete darkness for your home theater system.
Some blackout curtain manufacturers report a noise reduction of 40% with the use of their curtains. This factor might also come in handy if you work during the day. Blackout curtains can help you retain heat in during the winter and keep it out during the summer. There is a 10-25% loss of thermal energy, which escapes out your windows, and a good set of blackout curtains can cut this loss by 25%, reducing your utility bills and also greenhouse gases.
Here is a review of our top five picks for blackout curtain systems.
Taking into consideration the price at which the Nicetown – Pair of Back Tab / Rod Pocket Thermal Insulated Blackout Curtains is sold, one can agree that it is indeed a good deal. It has great noise buffering and light-blocking properties that have been proven to work impressively. The quality of this product has been proven and tested by a significant number of customers who have experienced it firsthand. The curtain has a simple, yet elegant design. Its fabric has a matte satin texture which is very rare for most blackout curtains available on the market.
Quality that comes at a very affordable price, the Best Home Fashion Wide Width Thermal Insulated Blackout Curtain is definitely an awesome deal. First of all, its light-blocking ability is excellent, especially for dark-colored drapes. It works great as an insulation tool whether it's cold or hot outside. The noise buffering properties may not be top-notch but it is something that is pretty rare for a product at this price point.
An original blackout curtain system with proven quality and condition, the Blackout Curtains Window Panel Drapes for bedroom / living room has proven its reputation on the market. It has very serious sunlight blocking properties, not to mention impressive noise buffering abilities. It is even better than other products that are sold at higher prices, with its features making it one of the best budget curtains that can be bought in stores and online.
This product may not have the best blackout properties, but the Contemporary Moroccan Trellis Design Classy Top Grommet 2 Panel Window Curtain is an excellent aesthetic addition to a home or office. Its sophisticated pattern design is perfect for any classy theme interior. It's not made primarily for light and sound blocking purposes but it can be used as a curtain panel to be placed on top of a blackout fabric. It is a great DIY material to be used for those who are planning to make their own blackout curtains out of inexpensive panel curtains and recycled blackout fabric.
Functional and decorative, the Deconovo Solid Thermal Insulated Blackout Curtain is a good addition to anyone's home. It is made out of high-quality fabric that comes in a simple, yet elegant presentation. It functions well as a blackout curtain as it blocks up to 98% of any light entering the room. It also has insulation properties that keep the room's temperature at a desired level, especially during winter. It's cost and energy effective. Generally, these drapes are an excellent deal considering the price at which it is sold.