This post may contain Amazon® product affiliate links. We may receive a commision if you make a purchase after clicking on one of these links but at no cost to you. Please visit Our Disclosure Page for more information. Thank you.
In the past, it used to be that picking out the best Panini press meant just choosing one of several appliances that all shared the same basic features. Today, a Panini press is available in two main styles: larger griddle type models that can make a meal for more than three people or a small basic model that's able to make one or two sandwiches at the same time. Each type offers distinct features and both come with special advantages. So how do you go about picking the right type of Panini press for you and your family?
Panini Press and Grill Styled Models Buyer's Guide
If you're shopping around for a new Panini press and grill combo, you're probably aware that melty, hot Panini style sandwiches are great any time of day. But what you might not know is that some models are designed to do much more than just make sandwiches and other models are so versatile that you can use them indoors and outdoors for grilling. All sandwich presses are designed for countertop use.
A basic Panini press is fairly small and is equipped with a weighted lid that works to gently push on the sandwich allowing for closer contact with both cooking surfaces. The most basic models will have ridged plates that are not removable. Almost all models will have heated lower and upper plates, which allows the user to prep their food, place it in the machine, shut the lid and come back in less than five minutes to retrieve their cooked sandwich.
A model with removable plates is definitely a step up from the basic models. This type of press will feature removable plates, typically, one will have a smooth surface and the other will have a ridged surface. The removable plates allow you to do a little more with this machine, and they typically come with the advantage of being much easier to clean and maintain. Some manufacturers also offer optional waffle plates, which brings even more versatility to these popular machines.
Hinged models offer much more versatility than basic models. These machines can be used as a Panini press or opened flat in order to double the amount of your cooking space. Some models will have non-removable plates, while more expensive presses will have grill plates that are reversible or removable. These top appliances usually come with drip trays and typically have some level of programmability for heat settings.
While there are many inexpensive models on the market, they usually feature plastic parts that break easily, don't cook evenly or break down after just a few months of use. Mid-level models don't come equipped with many features, but they are more solidly constructed. The best models will cost more, but they'll offer plenty of features and more flexibility, making them capable of taking on a variety of cooking tasks at once.
If you're tired of paying high prices for unhealthy food and you want an easy, quick way to make a gourmet sandwich in the comfort of your own home, a quality Panini press can offer this type of convenience to your kitchen. These machines will also allow you to exercise your culinary creativity by making dishes using your favorite fresh ingredients. There are a few important features that you'll need to look for in a new model, aside from the floating hinge and removable plate design. These additional features include an adjustable thermostat and grill surface area.
An adjustable thermostat is usually only available in higher end models. This feature can be very helpful for users who are planning on grilling many different types of foods. If you're looking for a model just for Panini making, then you'll save a little money and do fine without this feature. But if you need the ability to control the heat settings for a variety of dishes, then this is a must-have feature.
Some consumers will prefer a small grill simply because of the space constraints in their kitchen. A bigger grilling surface area is a must for people who like to make a lot of sandwiches simultaneously. Typically, the biggest difference between a higher end model and an inexpensive one is the grilling size. Most users prefer smaller models because they take up much less space and they're perfect for making two sandwiches at the same time, but if you have a larger family or enjoy hosting dinners, than a larger grill space may be necessary.
Plate material can also be an important factor to look for when you're in the market for a new model, because often, the types of materials used can directly affect the machine's performance. Coated non-stick and cast iron are two of the most common types of materials you're going to see. Each of these materials come with their own advantages and disadvantages. Cast iron models are usually much sturdier and are scratch resistant, bit they're usually heavier and pricier. Models that feature non-stick coating are lightweight and can really take down the price, but they tend to wear out faster over time.
If you're planning on using your sandwich press often or putting other types of food on the grill, you should consider a model that's equipped with cast iron plates. However, if you're going to use your press occasionally, then a non-stick model should work out just fine.
Just like most other types of kitchen gadgets and appliances, there are some types of presses that are highly versatile and can make more than just sandwiches. Most commonly, you'll see models that also work as a grill. In this type of setting, the machine will unfold so that the lid is facing upwards and provides you with double the cooking space.
Higher priced machines will allow you to use a press as a griddle, usually by removing the ribbed plates and replacing them with flat plates. While some models will use entirely separate plates, other machines will allow the user to just flip the grill plates over in order to save space. If you have a large family, finding a model's that's easy to clean will be at the top of your list. Models that have a non-stick coating will be much easier to clean than cast iron plates. They work to prevent foods such as cheeses and meats from sticking and you won't have to do any soaking or scrubbing to get them clean again. There are also some models on the market that have dishwasher safe plates, which is a must-have for any mom that dreads doing dishes.
Safety features are crucial in households with small children. A press can get very hot quickly. Some models are even able to reach impressive temperatures upwards of five hundred degrees, which is more than enough heat to cause a serious injury if you or a loved one is not careful. Because of this, insulated handles are the biggest safety feature to look for. These handles allow you to close or open the press without using a towel or wearing oven mitts. There are also some types of Panini presses that come with exposed edges were the cooking plates aren't covered. Keep this in mind if you have young children that are tall enough to reach the machine when it's in use.
You should also look for models that come with a locking mechanism, which allows the machine to remain closed when it's not in use. This latch also lets you store the device on its side, which allows you to save a lot of space in your cupboards.
Everyday Uses for Your Panini Press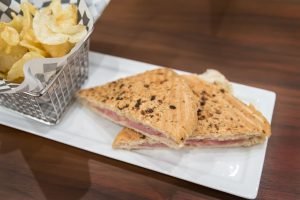 While you don't have to have a Panini press to make a grilled sandwich, if you have one, it can do a ton more than its name implies. A Panini press that can multitask can be used to cook all kinds of food creatively and quickly. From dessert to dinner during the week or when the weather turns too chilly for outdoor grilling, there are some awesome ways to use this machine on a daily basis.
Do you enjoy fresh veggies? You can use your Panini press to grill smoky, sweet asparagus, slices of sweet potatoes, eggplant, grilled tomatoes or even kale. Before you start grilling, toss the veggies or brush them will a little oil and seasonings.
Meats can be grilled to perfection and they can be cooked quickly without the need for a lot of fat. This machine can also be used to cook kebabs and bacon as well.
Are you a vegetarian? Prepare and marinate sliced tofu all day while you're at work, then toss it on the grill for an easy and fast dinner that's also healthy.
When you grill it, halloumi cheese will develop a milky soft center and a golden crust that makes for the perfect salad topper or appetizer.
You can choose between sweet or savory types of mochi and place them on the grill after a long day at work. These satisfying rice cakes will quickly turn gooey on the inside and crispy on the outside.
Slice up some polenta, place it on the grill and use it as a base for dessert or dinner.
Have you ever tried grilled fruit? Place sliced apples, pineapple or even bananas on your Panini press and sprinkle a little sugar and cinnamon on top for a satisfying dessert or use it to top your favorite cake.
Who doesn't love a good burger? A thick burger is only minutes away when you cook it on the grill of your Panini press. And it's also a healthier way to cook one because the grease will drip down into the drip tray. The press itself also eliminates a ton of the fat by cooking the burger under pressure.
Making a burrito with a Panini press makes one crispy melty meal that's messy and tastes amazing. Burritos are also a great option if you're trying to cut back on your carbs and they allow you to get really creative by adding a ton of fresh ingredients.
Pita bread mini pizzas is also another popular use for these machines and another reason why you'll end up falling in love with your press all over again because it will truly change the way you enjoy pizza. Consumers also used their press to make English muffin pizzas, which are not as healthy but just as satisfying.
Panini Grill Comparison Chart
KRUPS FDE312 Universal Grill and Panini Maker Review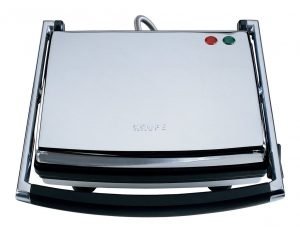 The Krups FDE312 universal grill Panini machine will allow you to cook up a wide range of dishes in just minutes. This model also features the popular floating hinge design which provides a ton of versatility and allows you to make kebobs, burgers and other types of dishes that are extra thick. This model also features plates that are equipped with non-stick coating, which means easier clean up.
Click Here to Read the Full Krups FDE312 Panini Press Review
Waring Commercial WPG150 Compact Italian-Style Panini Grill Review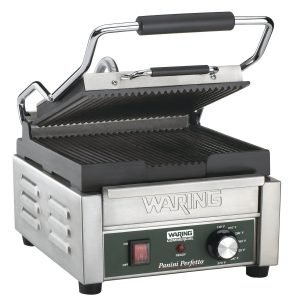 This Waring commercial WPG150 Panini press is a commercial model that can be used in a professional restaurant or at home. This model features a removable drip tray, ribbed cast iron plates and heat resistant handles. This is a model that received some mixed consumer feedback, however, many consumers can agree that this press works well in the home.
Click Here to Read the Full Waring Commercial WPG150 Compact Panini Grill Review
Breville BGR820XL Smart Grill and Panini Maker Review
The Breville BGR820XL Panini maker is loaded with a ton of bells and whistles making this one versatile machine. The press can be opened completely flat, essentially doubling your cooking space and the hover lid allows for more cooking versatility. This model features stainless steel housing and die cast arms for increased durability. The heat sensors give the user more control over the cooking temperatures, allowing you to produce perfectly cooked sandwiches and meats each and every time.
Click Here to Read the Full Breville Smart Grill Panini Maker Review