Storage baskets offer a great way to organize clutter and save space in your home at the same time. The good news is, lots of attractive designs and types of storage baskets are now available on specialty stores and handicraft suppliers. Hence, apart from keeping the room neat, storage baskets can also complement the interior, no matter where you place them.
Storage Baskets Options
Traditionally, baskets were made from rattan or cedar barks. But now, there are other exciting options to choose from. Some of these are the following.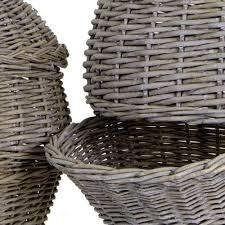 Nylon-Raffia Basket

– If you have a contemporary home interior and you want something that will compliment it beautifully, then a basket made from top quality nylon and raffia is the one for you. Crafted and manufactured all the way from Italy, this independent basket provides a luxurious solution to any room, most especially in a modern bathroom.
Wire Basket

– Another contemporary solution for your storage needs is a wire basket. Carefully structured from durable stainless steel wires, this basket gives off a modern feel with its matte nickel surface. Easy access and easy portability – these are the best qualities that make wire baskets a must-have item at home.
Chrome Basket

– Made from top quality brass and coated with elegant chrome finish, this basket is definitely an essential addition to any bathroom. Manufactured and made from the Netherlands, chrome baskets make great storage solutions especially in the shower room with modern interior.
Wicker Basket

– Get the stylish and complimentary appeal of an organizer once you use this basket. Use it as a night stand, on top of the tables in the entryway, for stacking magazines and newspapers, or to accessorize open shelves and cabinets, this basket is one versatile storage solution you cannot live without. Most models are hand crafted with inset handles; which means that you can easily carry them wherever you need something to store your stuff on.
Cotton/Polyester Storage Basket

– Another practical option among the many types of storage baskets is the storage basket made from 76% of polyester and 24% of cotton. It is not only attractive and versatile, but stable and sturdy as well, thanks to the bottom inserts that strengthen the whole structure of the basket.
There are many types of storage baskets out there; but recently, these varieties have the rage. Get yourself one or two of these and enjoy a neat, good looking, and clutter free home.