Is your home full of clutter and out of order? Do you have kids that keep making mess all the time? If so, then you have come to the right page. By trying these clever home storage solutions, you can finally pacify the chaos and start living an organized and stylish way.
Turn old boxes into jewelry kits.
Okay, so you have those old but sturdy boxes in the closet and you can't afford to throw them all out. If you don't want to lose them, why not transform them into jewelry boxes instead? To do this, you simply have to do the following: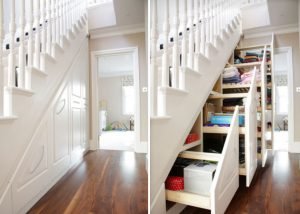 Clip them altogether
Place them inside your drawer
With these tidy dividers, you can put not only jewelries, but also other small things like pens, eyeglasses, lipsticks, and the list goes on.
Old glass jars make good hidden storage containers.
One of the most clever home storage solutions is by using glass jars as hidden containers in clutter-prone areas like garage, craft room, or basement. Doing this is easy.
You just have to glue or nail the lids of the jars underneath a surface.
Then, twist them to secure in place.
Once finished, you can now place small stuff in each jar. These can be bolts, nuts, or nails of similar sizes.
Transform spare curtain hooks into bag holders.
If there is extra space in your closet and you have curtain hooks that are not in use, you can put them in good use by hanging not only purses and bags but also your scarves, coats, and other accessories.
Convert your empty tissue box into a plastic bag organizer.
If crumpled and disorganized empty plastic bags are giving you a headache, you can finally say goodbye to that mess by making a plastic dispenser using your empty tissue box. Simply stuff them inside the box, while slipping a part of it in the opening so that you can pull one with ease every time you need one.
Use a wicker basket as a paper rack.
This idea applies to the living room where magazines, coloring books, or other printed materials are most likely scattered. Simply stack them up and you are done.
As you can see, organizing your home doesn't require too much spending and extravagant organizers. By using these practical home storage solutions above, your home can finally look systematic and neat which, of course, is what you always wanted.