This post may contain Amazon® product affiliate links. We may receive a commision if you make a purchase after clicking on one of these links but at no cost to you. Please visit Our Disclosure Page for more information. Thank you.
Security is of utmost importance at homes and at offices. Surely, you want to protect your business in every possible way; otherwise, you will be robbed and ruined in seconds. Securing the location is very important; however, stringent security can cost you a lot. It can weigh you down considerably. If this is what is worrying you, you can buy security mirrors. Mirrors are an excellent way to safeguard your business.
Types of Security Mirrors
If you are looking to purchase safety and security mirrors, be sure to check out the types first so that you choose the best according to your needs. Each type comes with its own benefits. The main types have been expounded as follows.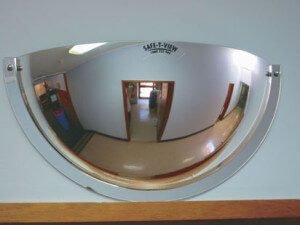 Convex mirrors

: These mirrors are highly versatile. You have numerous options to pick from. They will let you see from various angles without having to move from your position. You can buy either glass mirrors or acrylic mirrors. Acrylic mirrors are more durable but less clear. These mirrors are also less expensive. These are the perfect store security mirrors for you.

Dome mirrors

: Dome mirrors are not as versatile as the prior type of security mirror but they are the best to alert people in times of danger. They are ideal for parking spots and they make for excellent outdoor security mirrors too. These mirrors are generally acrylic. This means that they are not really clear to give you great accuracy. However, they are good enough to stay safe.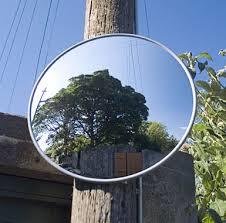 Inspection mirrors

: These are very important for businesses. You can use these to examine work done inside broken machines and so on. They are an excellent choice to inspect places that you can't see with the naked eye.

Flat mirrors

: Flat mirrors are also security mirrors but many people don't consider them as very useful. However, the truth is that a few types of flat mirrors can indeed be helpful. One example is the one way mirror. On one side, it is a mirror and on the other it is plain glass. You will be able to keep a track of your employees and of any intruders through these mirrors.
Now that you know all of the types of security mirrors and their uses, you will be able to pick the best for your needs. Make sure you buy from the right seller to get the best. Online stores are an excellent option to choose from numerous options. Keep your homes and business establishments safe and well-protected through these mirrors. Doing a test on an updated post?