This post may contain Amazon® product affiliate links. We may receive a commision if you make a purchase after clicking on one of these links but at no cost to you. Please visit Our Disclosure Page for more information. Thank you.
The Summer Infant Complete Coverage baby monitor set is pretty impressive and includes two parent units and one camera. The display screen on the main parent unit measures in at seven inches and includes a built-in carrying handle, while the display on the other parent unit measures in at two inches and includes a belt clip. Packed with fun and interesting features that are designed to make mom and dad's life just a little easier, viewing your child anywhere in the home has never been easier.
Parent Units and Camera Features
When in use, the parent units have a range of up to 400 feet. The parent display devices will allow you to control the tilt, pan and zoom functions on the camera, so you won't have to go into your child's room to make an adjustment. Because this set comes with two parent units, you and your partner can both keep an eye on your child at the same time. Both of the display screens boast clear pictures, with the ability to shut off the audio and just keep the screen view, or turn off the video and only keep the audio on. If you don't want video or sound, you can still keep the device on and use the colored sound indicator lights. Also included is the automatic night vision feature, which will switch on once it starts getting dark. Both parent units will allow you to make adjustments to the color and brightness of the display screen.
This device could be easily mistaken for an older iPhone model. The compact, slim and sleek design makes this monitor easy to tote around while still offering the user a high quality viewing experience. There's just a lot to love about this system.
You can expand this system using up to four cameras. A larger system will allow you to view more than one child at a time in each room a camera is placed. The talk to baby feature is typically included in most digital baby monitor sets and it allows the parent to talk to and soothe their infant without having to be in the room. This feature has its own dedicated button located on the side and it works as expected.
Pros and Cons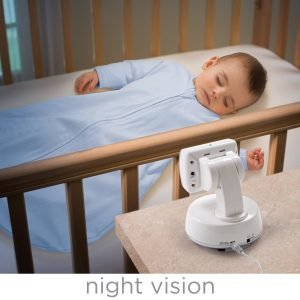 Pros: The hardware on the large seven inch parent unit will allow you to mount the device in one room and use the smaller, more portable parent unit around the house or out in the yard. Keep in mind that if the larger parent unit is not plugged in, the video will automatically shut off after ten minutes, in order to save battery life. You can prevent this from happening by plugging the device into the charger while in use. When toting the smaller unit around the house, consumers reported a battery life that ranges from eight to ten hours.
The Summer Infant digital color video baby monitor is easy to use and touch screen operated. Also included is the talk to baby feature. This model utilizes a motorized camera in order to tilt and pan the camera, allowing for huge viewing range. The image quality has been described as above average, as is the model's range capability.
You can mount the camera to the wall over the crib using the provided wall mounting and clip hardware, or you can simply place it on a nightstand or dresser. Like other baby monitor sets in the Summer line you can add up to three more cameras, and will not be required to purchase an additional parent unit.
Cons: Some consumers had complaints in regards to this model's range capabilities. While on the box it states that the parent units have a range of 400 feet, many consumers reported that they received an out of range message at about 200 feet. Overall, this set received highly positive reviews and considering most models on the market don't include a second parent unit, this system is still a pretty good deal. Some consumers reported that the parent units would fail to charge after six to nine months of use. Should you encounter this issue contact customer service. This issue is simply a matter of a faulty charger and is an easy fix.
Conclusion and Rating
This device works well if simply placed on a shelf or for the best view of your infant you can take advantage of the wall mounting option, allowing you to place the monitor in the look down position. Regardless of your mounting choice it's important that you make sure that the power cable has been properly secured and out of reach of the baby in order to prevent a strangulation hazard.
The 3.5 inch display screen is the perfect viewing size and the monitor's image quality is described as excellent. Range for this monitor is also very good, but it not able to travel as far as the video monitors by Motorola and has been reported to go an average of 1,500 feet as opposed to the 2,000 feet that you can expect from Motorola video monitors.
Overall, this system is packed with features mom and dad will love. The ability to control the camera's angle from the parent unit is a huge plus and not a feature you'll commonly find on most models.
The ability to expand this system is also crucial for many families with more than one child. You now have the option of placing cameras in widely used rooms in the home, without the need to purchase additional parent units. This is the perfect solution for large families on a tight budget.
Consumers gave this video baby monitor a rating of four out of five stars for ease of use and setup, pricing and the standout features included. Currently, this model is reasonably priced, featuring a more affordable price than competitors. This device is simply a steal, especially if you need to expand your monitoring system and add more monitors.
[button size="medium" style="success" text="For More Details – Click Here." link="http://www.amazon.com/dp/B00EU5AL8W/?tag=sunnyafternoon-20″ rel="nofollow" target=""]