The Motorola wireless digital video baby monitor comes with two cameras and features impressive infrared night vision functionality. The large LCD screen on the parent unit provides a crystal clear image and the large wireless range means that it will work in any room around the home, without experiencing any interference.
Night Vision Mode and Camera Use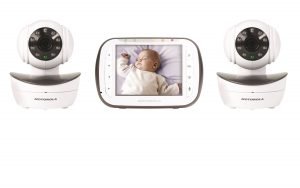 Being able to keep an eye on your baby while they sleep is very important. Most models of baby video monitors work well in the daylight, but as soon as it gets dark, it can be difficult to get a clear image of your child. The best thing about this wireless baby monitor by Motorola is the display works with infrared night vision. The image when using the night vision feature is clear enough that you can see your child breathing. This type of technology is very reliable and effective, making this system well worth the price. When the camera is used in the night vision mode keep in mind that you'll need to place the camera as close to your child as possible in order to get optimal results.
Daytime viewing is displayed in full color. When using the infrared night vision feature, the screen will switch over to black and white.
This system comes with two cameras, making it an ideal buy if you have more than one child or if you want to mount a camera in more than one room. The angles of the camera are remotely controlled using the parent unit. So you can zoom in, pan or tilt the angles, without getting out of bed. If mounted correctly, the cameras should be able to give you a clear view of the entire crib.
Pros and Cons
Pros: The display screen on the parent unit measures in at three and a half inches. Lightweight, this device includes a kickstand so you can prop it up for easier viewing. On the side of the device you'll find buttons that control the power, camera angles, and volume. Also included is a visual indicator that works in conjunction with the audio, so you won't have to turn the device all the way up at night in order to determine if your baby is crying or making noise. The light indicator will work by lighting up, displaying how loudly the baby is crying.
Other top features include a temperature sensor and display, long lasting battery life (up to ten hours of use), two-way communication, wall mountable capabilities, five built-in lullaby songs, and you also have the option to purchase two additional cameras.
Cons: Some parents had issues with this systems range capabilities, which is pretty common with any type of monitoring system and can vary from home to home.
Conclusion and Rating
Consumers gave this system a rating of four out of five stars for ease of use, extra features and pricing. A solid and reliable system, this model by Motorola received highly positive feedback from consumers.
[button size="medium" style="success" text="For More Details – Click Here." link="http://www.amazon.com/dp/B00D56GRVW/?tag=sunnyafternoon-20″ rel="nofollow" target=""]