This post may contain Amazon® product affiliate links. We may receive a commision if you make a purchase after clicking on one of these links but at no cost to you. Please visit Our Disclosure Page for more information. Thank you.
In a senior assisted living facility the patient receives care based on their needs and their cognitive level. An assisted living facility can accept public assistance pay through Medicare or they might only accept private pay patients. Private pay facilities will typically cost significantly more but also will offer more activities or feature such services as newspaper delivery, free of charge chauffeuring and on-site movie theaters. Many of these facilities work to keep residents happy and engaged while also strongly encouraging independence in certain areas of the patient's life.
Meal reminders, housekeeping, meal preparation, transportation and medication administration are some of the services that are usually covered in the resident's monthly rental fees. Extra care needs can be expensive and will depend on the type of service and how frequently service is needed. This can include one on one companionship, special wound care treatments and additional transportation during the month to medical appointment or activities.
Assisted Living Care Plans and Pricing
In an assisted living facility a resident can receive assistance with meal reminders, bathing, dressing, ambulation, wound care treatments, medication administration, diabetic care and feeding.
Assisted livings will charge based on a point system. The first step towards configuring the monthly cost for a resident is to interview the family and the resident and learn about the areas in their life they need assistance with, such as housekeeping, laundry or bathing. Each point will have a cost ranging from 25$ to 100$. The family and the resident care coordinator will write up the resident's service plan which will detail the resident's capabilities and their needs, including cognitive level, ambulation abilities and companionship needs.
The facility nurse will also interview the resident and their family members, learning about the patient's medical history and current medical needs. The RN is required to perform a mini mental exam on the resident in order to determine their cognitive level.
Once this has been established the resident will be assigned to a studio or one bedroom apartment with a small kitchenette. Each apartment is equipped with pull cords throughout the apartment that allows the resident to alert staff should they have an accident or if they need assistance with the bathroom.
Residents in this type of facility will have their meals provided for them three times a day in the facilities dining room. Special meals are provided for those residents that have dietary restrictions.
Patient's With Special Needs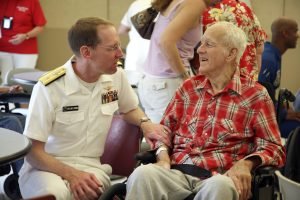 A patient that has disabilities will require a higher level of care, which means the family member that is responsible for the residents finances will be paying significantly more every month. Patients that are wheelchair bound will need assistance transferring from surface to surface, meal escorts, bathing and bathroom assistance.
Patients that suffer from dementia can also expect to pay more each month, especially if the patient requires redirection several times a day or assistance with feeding, bathing and bathroom assistance.
A more affordable option for this level of care is an adult foster home. The foster home staff are able to spend more one on one time with each resident due to the facility having about ten to thirty residents at a time whereas an assisted living will house 100 to 200 residents at one time.  The majority of foster homes will accept Medicare, which means all or most of the residents care needs will be paid for through their insurance.