Home health agencies can offer a large range of skilled medical services including physical therapy, occupational therapy and nursing care from health care professionals such as physical therapists, registered nurses, LPN's, medical assistants and CNA's.  Some home health care agencies will also offer assistance with activities of daily living such as feeding and bathing. These services are conducted in the privacy of a patient's home or in the medical facility they reside in such as a hospice, nursing home, adult foster care homes or assisted living facility.
Often, only experienced caregivers with more than five years of job experience working with the elderly population will qualify for this type of position. At-home treatments can be complicated and often require nurse supervision and delegation. Because of this, the caregiver needs to be skilled in safety practices and infection control and be a self-starter in a relaxed environment. Medication administration is often a part of each job and may require the caregiver to schedule, sign off and reorder medications when they're running low or about to expire.
Care Provided in a Home Setting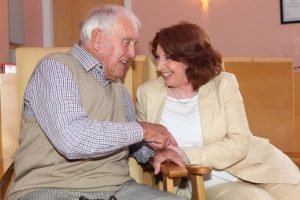 Patients that suffer from disabilities, injuries, chronic illnesses or elderly patients can qualify for home treatment through their public or private insurance company.
Should a patient be released from the hospital and be in need of physical therapy, based on services covered in that patient's insurance policy they may be eligible to have a physical therapist visit their home and work with them a few times a week, discussing pain management, mobility issues and the patients overall progress.
Elderly patients that are on hospice can receive weekly visits from a hospice nurse who will evaluate the patient's condition, make adjustments in the patient's medication and order medical supplies such as incontinence care supplies, bedside commodes or a hospital bed. Hospice will also provide shower aides who can visit a patient three to four times a week, or companion volunteers who will read to the patient or spend quality time with them.
Home healthcare such as assistance with wound care, skin treatments and showering is also available through state or private insurance. Many of these services are geared towards assisting the elderly and promoting independent living. This means that often, a program will work closely with an elderly patient in terms of flexible appointments and ongoing care services.
Facility Living and Extra Care Needs
Should a patient need home visits when residing in an assisted living facility, the facility staff will coordinate these appointments with the patient's family. Services provided include mental health sessions and evaluations, wound care treatment, bathing, feeding, physical therapy and companionship.
Patients that have suffered an injury such as a severe skin tear may require visits from registered nurses who will change the wound care dressing and evaluate the wounds progress a few times a week. The nurses may also work with the facilities staff in order to train them on the proper way to provide care for the injury.
Hospice nurses will work with the facility staff in order to get a better idea of a patient's decline or changes in their condition such as a decrease in appetite or cognitive level.  Hospice is also required to work with the patient's primary care physician in regards to medication changes that may be needed.
Physical therapy is also available once a patient has been released from the hospital and requires assistance with daily exercises and needs evaluation for medical devices such as wheelchairs, walkers or canes. The physical therapist will also work with facility staff, teaching them the proper way to assist the resident with daily exercises or ambulation.