This post may contain Amazon® product affiliate links. We may receive a commision if you make a purchase after clicking on one of these links but at no cost to you. Please visit Our Disclosure Page for more information. Thank you.
There are a few times a year when a party is an absolute requirement: New Year's, the Fourth of July, birthdays, and the Super Bowl, of course. Parties can be bad for your waistline, though, so try making some healthier foods for your Super Bowl party. With appetizers, you want to remember that they're just that-appetizers, not the full meal. Usually a serving is just one or two bites, not the whole platter. And when drinking, either stick to light beers or alternate regular beers with diet sodas or water. Here are a few recipes that your friends won't even realize are healthy for them.
Barbeque Wings
2 Tbsp. honey
2 Tbsp. ketchup
2 Tbsp. red pepper sauce
1 Tbsp. Worcestershire sauce
2 lbs. chicken wings, skinless
Paprika
Preheat oven to 350. Combine honey, ketchup, Worcestershire sauce, and red pepper sauce. Marinate chicken in mixture for at least 30 minutes, but no more than 24 hours. Put chicken wings on baking sheet and sprinkle with paprika. Bake for 30 minutes or until the chicken juice is clear.
Chili Con Queso

1 can (14.5 oz) diced tomatoes, undrained
1 can (10 oz) diced tomatoes and green chiles, undrained
1 tsp. Olive oil
1/3 cup chopped onion
2 minced garlic cloves
2 tsp. Chili powder
8 oz fat free cream cheese, softened
6 oz. Light Velveeta cheese, cubed or grated
Drain both cans of tomatoes over a bowl, setting aside 1/3 cup of the liquid. Heat oil in medium saucepan on medium heat. Add onion and garlic, and saute for 4 minutes. Add cream cheese to pan, stirring constantly until melted. Add tomatoes, reserved liquid, and chili powder. Bring mixture to a boil. Add Velveeta and reduce heat, simmer 4 minutes or until cheese is melted. Stir until well blended. Serve warm with baked chips or raw vegetables.
Stuffed Jalapeno Peppers
12 jalapeno peppers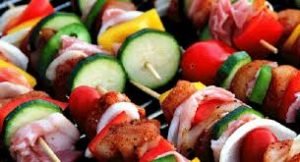 3 oz light cream cheese, softened
½ cup low fat shredded cheddar cheese
¼ cup green onions, finely chopped
1 cup crushed Kellog's Special K corn flakes (optional)
Preheat oven to 350. Cut each jalapeno lengthwise. Remove seeds, stems, and veins under running water. Mix cheeses and onions in small mixing bowl. Stuff each jalapeno half with cheese mixture. If desired, sprinkle crushed corn flakes on top of cheese mixture. Bake for 15 minutes, or until cheese melts.
Sausage Subs
4 turkey medium-sized sausage links
1 red pepper
1 green pepper
1 yellow onion
1 can light beer
whole grain bread (pitas, sub rolls, etc. – enough for 4 sandwiches)
¼ lb low fat sliced cheese (optional)
Cut sausages into thin slices. Cut peppers and onions into thin strips. Saute in large skillet with light beer, until sausages and onions begin to brown. Divide amongst four sandwiches, add 1 slice of cheese each if desired.
Chicken and Bean Tortillas
3 chicken breasts, with fat trimmed
1 can black beans, drained
1 jar chunky salsa
1 package low fat shredded cheddar cheese
Emeril's Southwestern spice mix
8 small whole wheat tortillas
Preheat oven to 350. Rub chicken breasts liberally with Emeril's Southwestern spice mix. Bake chicken for 45 minutes or until juices run clear. Slice chicken breasts into small strips. Serve beans, salsa, cheese, and chicken in separate bowls, and tortillas on a plate. Suggest using 2 oz chicken, ¼ cup black beans, 3 tablespoons salsa, and 1/8 cup cheese per tortilla.
With these high flavor, low calorie dishes, your Super Bowl party is sure to be a hit.