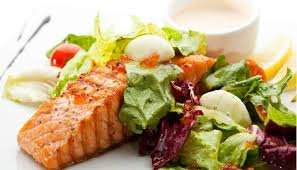 Like most Americans, I have enjoyed a meat-filled Fourth of July cookout for the majority of my life. As I've gotten a bit older in recent years, I've become more health-conscious and as a result, have learned to prepare my family's meals in a much healthier method.
Here are a few tips on making that 4th of July cookout meal a lot healthier and with a lot less fat.
First, we will start with a garden salad with your choice of garden variety salad-mix bags which you can find at your neighborhood Wal-Mart or grocery store. I prefer to get two or three different kinds and mix them together with a little bit of low-sodium Mrs. Dash's seasoning. Add in a few tomatoes, half a cup of shredded cheese, cucumbers, raw broccoli and red onions and you should have your self quite a salad.
With every meal I prepare for my family, I like to serve some sort of vegetable or mixed vegetables. Vegetables are the building block for a healthy body and are a must in everyone's diet.
With this meal, vegetable and shrimp kabobs would be absolutely perfect. To prepare any kind of kabob you must have kabob sticks which you can find in your local K-Mart, Wal-Mart or grocery store.
Now once you have your kabob sticks all you need now is 4 to 5 pounds of jumbo or medium sized shrimp, a pack of mini whole tomatoes, a pack of whole mushrooms and red, green and yellow bell peppers.
You can arrange the vegetables and shrimp on the kabob sticks in any order you wish, make sure you leave the shrimps, tomatoes and mushroom whole while cutting the peppers in large square shapes.
I prefer to use the Mrs. Dash brand of low-sodium seasoning, but any low-sodium seasoning of your choice should be sufficient.
Grill the kabobs while rotating periodically for approximately five minutes or until the shrimp is fully cooked.
To keep this meal healthy instead of using your regular hot dogs and hamburgers, let's try using turkey or veggie burgers as a substitute. You can find Healthy Choice hot dogs and burgers in the frozen food section of your neighborhood Wal-Mart or supermarket.
You could also try making some salmon steaks or another kind fish on the grill if you prefer.
To cook any type fish on the grill you will need a roll of non-stick aluminum foil, preferably one of the better brands.
Individually wrap each piece of fish in a piece of foil with your choice of seasoning and a thin slice or two of lemon on top of the fish. Then seal foil completely on all ends and cook for about 5 to 10 minutes depending on the temperature of the grill.
The perfect dessert to complete this meal would be a beautiful jell-o mold with mixed fruit. If you don't have a jell-o bowl you can find one in your local dollar store, K-Mart or Wal-Mart. Once you have your bowl you will need to purchase two or three boxes of jell-o mix in your choice of flavor and one or two cans of fruit cocktail.
Follow the directions on the side of the jell-o box. Once it's made pour the jell-o into the bowl then add in your cans of fruit cocktail, make sure to drain the juice of the fruit cocktail before adding them in.
Let the bowl sit in refrigerator for roughly 2 to 2 ½ hours or until clearly firm. Then place a plate on top of the bowl with the bottom part of the plate face-up. While pressing firmly together, turn the bowl and plate on top, over so the bowl is on top of the plate.
Let sit for one (1) minute then lift bowl up gently, leaving the jell-o standing on the plate. For smaller servings, use 1 or 2 boxes of jell-o and 1 can of mixed fruit or fruit cocktail.
Now that your meal is complete you can enjoy your holiday, knowing you do not have to work it all off on the treadmill the next day.