This post may contain Amazon® product affiliate links. We may receive a commision if you make a purchase after clicking on one of these links but at no cost to you. Please visit Our Disclosure Page for more information. Thank you.
When it comes to home décor, table lamps play a very vital role in the makeover process. Traditionally, they have been associated with cultured and well-educated families and have served as an important source of lighting in the house. In recent times, ceramic table lamps have become very popular as a home décor item. Not only do they provide insulation from electricity, which makes them a whole lot safer than steel frames, they come in various shapes and sizes, which can help uplift the overall look and feel of the house.
Designs and Colors
Ceramic table lamps provide a wide array of designs and colors to choose from. While chic and dazzling shades could be used in the dining hall, sober shades go well to complement the study room. Copper, blue crystal and icy hues are some other variants available to decorate the house and they all come in myriad designs and forms.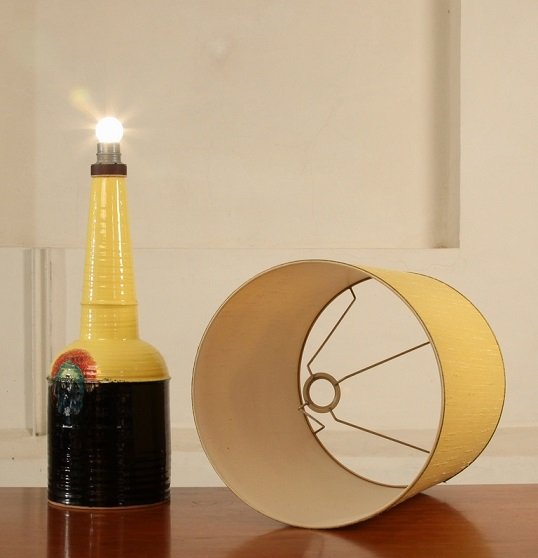 Purpose
Before buying ceramic table lamps, one should consider the purpose for which it is being bought. For example, if it is to be used to create a quiet ambiance, then one can go for heavy shades coupled with dim lights. Moreover, one can also try those toppers which facilitate easy filtration of light. As a result, a very limited area would get illuminated in a very dim way to create a magical ambiance. Similarly, they could also be used as a table lamp for study purposes with relatively higher luminosity. For elegance, you may also opt for glass table lamps or crystal table lamps. Moreover, these could be used to create an individuality of one's own preference.
In Sync with the Décor
It is very important to consider the existing home decor before buying these lamps. For example, if the room is filled with antique furniture, then a modern looking lamp might not go too well with them. On the other hand, if the space has a contemporary look then large table lamps with ergonomic designs may gel well with the surrounding environment. So, oriental lamps could be used with antique furniture, whereas modern lamps could be used with modern furniture.
Variety
There are various types of ceramic table lamps available in the market. One of the most popular is the Dragonfly Dream table lamp. Along with a dragonfly motif, it features cut outs and patterns which intensify the beauty of this lamp. Coupled with a functional switch, which is sturdy and safe to operate, it creates a vibrant environment for the entire room.
Likewise, the Milkyway children's table lamp is a favorite with the kids. Featuring designs based on the space theme, including stars, comets, planets and aliens, it gives a new look to the room and facilitates an exciting way to learn new things. It illuminates the walls and ceilings in a wonderful way.
To conclude, there are numerous types of lamps available in the market. However, one has to choose wisely so that, it gels well with the overall surroundings. They could be chosen based on the existing home décor, so that they beautifully accentuate the overall look and feel of the room.