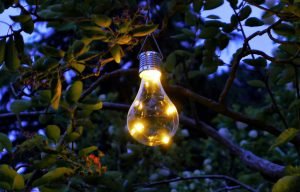 If you have a big garden area and are looking into lighting options for nighttime, then you have probably heard of garden solar lights. While garden solar lights can be a little spendy, but with this type of lighting system you won't need to run any wiring in order for them to work. If your garden gets plenty of direct sunlight then you can place solar lights anywhere.
Solar lights work almost like a mini-satellite. These devices store and generate their own power during the daytime and release it at night.
Most solar light systems will consist of such components as a controller board, LED and battery. Once the sensor is covered the LED light is activated. On the other side of the device is a four cell solar array.
The solar cells will typically produce 45 volts and the amount of current will vary depending on the size of the cell itself and the amount of light that touches the surface during the day.  The device's solar cells are wired directly to the device's battery. The battery itself is able to store a max of 800 milliamp-hours. During the daytime the battery will charge and reach the max charge, except during the much shorter winder days, or on days when there is a heavy overcast.
During the night the solar cells will cease producing power. The LED light will draw around forty to forty-five milliamps with the battery producing 1.25 volts. This means the light it produces is around the same as that of a votive candle. While these types of lights are not typically utilized for complete illumination of a yard, they are ideal for marking a trail or path in your garden.
Is the High Price tag worth it?
The reason behind the high cost of these lights is due to the device's solar cells, in addition to the battery. A solar cell will continue to be expensive because they're manufactured from silicon crystals. While still considerably more affordable than they were about ten years ago, the cost of each solar light is around twenty to thirty dollars. Buying them in a set is typically cheaper, with a cost that comes out to around ten dollars per light.
The higher priced models will offer a combination of a small halogen flashlight bulb and an LED light. The LED light remains on at all times and the light bulb will turn on for one to two minutes when the system's motion detector detects some type of movement.
While the initial cost may seem a little steep, the amount you'll save on your energy bill tends to make it worth it. Typically, they're cheaper than electric garden lights. They're also easier to use and setup, which means no expensive installation fee. Overall, this type of lighting system offers homeowners an effective and cheap way to light their yard and garden. The ability to set the lights up in any location in the yard means you can add more lights to your setup for special occasions.
During the hotter months that are filled with open air parties, cookouts and barbeques, a little outdoor lighting can provide the right kind of ambiance. Solar lighting can also allow you to continue your celebration late into the evening. The cost of running electric lights can really add to your summer energy bills, which is why many people who enjoy entertaining have turned to solar lighting as a more cost effective option. These lighting systems are now available in a wide variety of colors and styles and offer plenty of benefits when compared to electric lighting.
Obviously, the biggest benefit of using a solar lighting system is the fact that they aren't powered by an outlet. Instead, these lights feature tiny solar panels that utilize sunlight to charge their batteries. Many of these lights are able to charge enough power during the day to provide light for up to ten hours. Keep in mind that this timeframe can vary depending on the positioning of the panels and weather conditions.
These systems are incredibly convenient, allowing you to place your lights wherever you want, without having to worry about the proximity of a power source. They're also a great choice to use around pools, ponds or out of the way locations. Plus, these lights will continue to work even in the event of a power outage, which ensures that there's always adequate lighting available in your garden.
Going Green with Solar Energy
Want to reduce your carbon footprint? Buy a solar lighting system. These lights work by charging throughout the day, then they operate off stored energy. So now you can light your yard and garden throughout the night without any additional energy consumption. When electric lights are used to light a garden for a comparable amount of time, day in and day out, you can expect a large energy bill at the end of the month. But by combining solar powered appliances and light systems, you now have the ability to live in a way that's much better for the environment, while also saving on your energy bill.
Most gardening experts will also tell you that this type of lighting system is much safer than electric systems, since there are no electrical cables to worry about. The lack of cables also makes them perfect for temporary installation at family gatherings and barbeques, where there is a greater risk that children can trip over an exposed cable from electrical light sources. Lanterns and candles pose a fire risk, which is another reason why going solar makes sense for families with small children. At bedtime or during a vacation, homeowners often switch the lights off, which results in a dark garden during the night. Complete darkness provides an opportunity for intruders and vandals. Conversely, a solar lighting option works to illuminate the yard every night, whether you're home or not and they act as a great deterrent for thieves and other criminals.
Available in many styles and colors to suit any theme or décor for your home and yard, you're bound to find an innovative set of solar lights that can make a major impact on the appearance of your yard and garden, without it effecting your wallet every month.