Are you a bread-lover? Do you want to have a perfect holder for your freshly-baked goodies such as bread sticks, baguettes, croissants, bagels, and rolls? Then a bread basket is your best option. Alternatively, you can also use it to contain your pretzels, fruits, or anything that fits in it. In specialty stores and retailers, these baskets are available in a plethora of artistic choices on sizes, shapes, and construction. Most models, if not all, are made to withstand the impact of everyday use whether it is for residential or commercial purposes.
Popular Types of Bread Basket
Choosing this basket also needs a few considerations on the buyer's part. Depending on their preference and specific needs, they should choose a particular type of basket that will serve its purpose well. If this is your case, then these are the options that you can decide upon.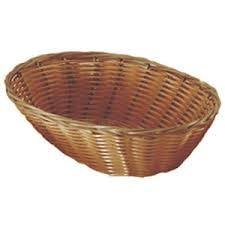 Wire Bread Basket

– Designed with a faux chicken wire construction, this basket makes a perfect accessory to homes and restaurants that specialize on home-style cuisine and barbeques. If you are in for a country style basket with a shiny chrome finish and a durable structure, then a wire basket should be your final choice.
Ceramic Bread Basket

– Keeping your bread warm or displaying your favorite selection of fruits is very convenient through the use of this ceramic basket. Multi-purpose and durable, this basket can hold temperatures that go up to 300 degrees Fahrenheit. Designed with a basket weave pattern and rolled edges, it makes a lovely countertop basket for any occasion.
Bread Proofing Basket

– Used by most bakers to retain dough shape while proofing, this basket comes with a rippled design that leaves a mark on the dough that is typical on most baked breads. Stackable and dishwasher proof, it is durable, food safe, hygienic, and easy to clean since there are no ridges or divisions on the basket.
Wicker Basket

– Another fantastic option on bread basket is the wicker type. Constructed from durable polypropylene material, this basket can withstand extensive use and is reinforced with wires so that everything you put inside is well-secured.
Those were the most popular options on bread basket. Whether it is for residential or commercial use, this list will surely help you to come up with a final decision much easier. So don't waste time. Go ahead and take your pick because lots of beautiful baskets are waiting for you.