This post may contain Amazon® product affiliate links. We may receive a commision if you make a purchase after clicking on one of these links but at no cost to you. Please visit Our Disclosure Page for more information. Thank you.
There are several ways that people with apnea sleep, and most patients will frequently move around during sleep because they can't seem to breathe well in one specific position. There are other patients who will sleep in a certain position, every night.
Many of these apnea suffers are side sleepers. If you have apnea and you sleep on your side, you're going to want to find approved CPAP masks for side sleepers in order to ensure that your mask does not get pushed off your face during the night.
CPAP users can go through a few different styles of masks before they settle on the right style and size. If you are still experiencing the symptoms associated with apnea, such as irritability or fatigue during the day, this may be caused by a mask that doesn't fit correctly.
Sleepless Nights
If you're looking for CPAP masks, take into consideration that you'll need a mask that's comfortable, won't fall off the face when sleeping in a side position, is able to provide cushioned support and a model that's less bulky.
Trying to sleep with apnea can be really uncomfortable. Because of this, masks that are bulky and big may not work well if you sleep on your side. Additionally, masks that don't provide the right amount of comfort can keep you awake at night or prevent you from using the machine.  Generally, full face masks are not a good option for side sleepers.
CPAP masks are lightweight and smaller and designed to stay in place. This will provide you with the freedom you need to sleep in the position that is the most comfortable for you. Usually, the nasal mask or nasal pillow models are a good choice because they provide more freedom and even allow you to read or watch TV while in bed.
Try Different Styles of PAP Masks for a more Custom Fit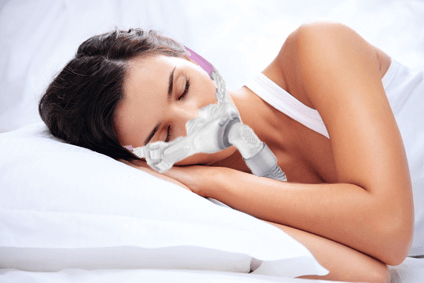 Many people with sleep apnea rest on their side because it's the most comfortable position.  Wearing a full face mask will prevent you from sleeping on your stomach or side and it can often slide out of place if you move around a lot in your sleep. Speak with the staff at your local medical supply store in order to determine which type of mask style is best for you. Before you buy it will be important to try on a number of different models in order to ensure that they're sized right. Most health insurance companies will cover the cost of apnea masks and machines. If you decide to use a BIPAP model you may end up paying out of pocket. All styles of masks work for different types of PAP machines, so you'll have several options to choose from.