The sound engineer salary can be affected by a number of factors, including their level of education and training, their place of employment and the state they live in. An engineer can work in a number of environments, such as recording studios, theaters, radio stations, television stations and arenas or they can also work for the film industry.
The Top and Lower Ten Percent Earners in the Industry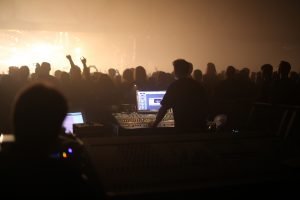 The median annual salary ranges from $24,000 to $90,000, according to statistics provided by the BLS. The lower ten percent in this field earned less than $22,000, with top ten percent of sound engineers making more than $94,000.
The salary for this position can be significantly affected by the engineer's years of experience in the field. Engineers with one to four years of experience can make an average of twelve to twenty-four dollars an hour.  Individuals with five to ten years of experience can make fourteen to twenty-four dollars an hour, while engineers with twenty years of experience or more can make fifteen to thirty-two dollars an hour.
Best Paying Positions for Sound Engineers
Industries that employed the biggest amount of sound engineers featured salaries that ranged from $42,000 to $58,000, according to the BLS. The video and motion picture industries employed the largest number of engineers with an average salary of $60,000. Other industries that employed large numbers were subscription programming companies at $56,000 a year, performing arts companies at $44,000 a year, and television and radio broadcasting companies at $52,000 annually.
The industries that provided the top salary will pay anywhere from $62,000 to $64,000. The industry that paid the top annual salary were software publishers, offering an annual salary of $66,000. Other places of employment that offered the best salary for this field include the video and motion picture industry, traveler accommodations, religious organizations and television stations. The video industry was listed as employing the largest amount of engineers and it's also considered one of the top paying industries.
The states that paid the higher salary for this field include Washington, California, Georgia, Montana, New York, Florida and Connecticut. Washington features an average annual salary of $70,000, while California offered a salary of $68,000, and Montana featured an annual salary of $64,000, as did Georgia. Connecticut offers an annual salary of $56,000. States that offer the lower salary for sound engineers includes Utah, Virginia, Alabama and Alaska.
According to statistics, the growth rate for this position is at six percent, which is the average growth for most occupations. Individuals who have degrees in sound engineering will experience the most employment opportunities and the higher salary for this field.
Because of the fierce competition of these positions, individuals who have completed internships during a training program will also be able to experience more employment opportunities. Typically, employers will prefer to hire individual that have associates or bachelor's degree in recording arts.
Is Success Possible in this Highly Competitive Field?
If you're looking to get your foot in the door in the audio engineering field, you may find that landing your next job will be a weekly or monthly goal. Many engineers that haven't secured a position at a studio make a living working as a freelancer. This can be pretty stressful if the gigs you land are short term.
If you graduated from an audio school and obtained a degree, you're probably struggling to repay thousands of dollars in student loans and make enough to cover your monthly bills. So at this point, when you do manage to land a job, it's important that you do whatever it takes to be helpful and stay busy at the studio. This means running errands, setting up equipment, tuning guitars, checking connections in the studio individually, dusting the furniture and straightening out the mic cabinet. You need to be as proactive as possible, each and every day. The goal is to get a recording team to realize just how essential you are. This can lead to a permanent position working in a studio or the studio can recommend you to other producers, which can result in more freelance work.
Because the salary in this field is so low to start, it's not uncommon for an engineer with a steady studio job to also freelance in their spare time. Freelancing is ideal for many engineers because it offers more flexibility and at times, a higher salary, depending on the job.
Don't expect studios to throw work at you. It'll be your job to stay in touch with studios and other sound engineers or producers. You can also advertise your services or reconnect with your engineering school for assistance with job leads. The first year or two is very shaky for many in this industry. People who rely on a steady, predictable paycheck usually don't last very long.
But toughing it out can really be worth it in the end. If you can handle the long hours, the menial tasks and the lower salary that's usually offered to the inexperienced in this field.
Working as a freelancer, you won't have any guarantees that you'll get a paying gig. Which is why it's important to always have some of your own projects to work on in your spare time. You can do this by setting up a recording studio in your home and offering your services to local bands looking to record an album. If you have a small setup at home, you can charge around twenty to thirty dollars an hour. Some recording studios will even give their engineers a small commission for recommending artists to their studio, if an artist needs a bigger setup than what the freelancer can offer in their home studio.
Essentially, starting out as an engineer is like working without a net. The pay may not be steady, health insurance will be a dream and work can be hard to find, but with perseverance and a can-do attitude, there's no reason you can't succeed once you've earned more experience.