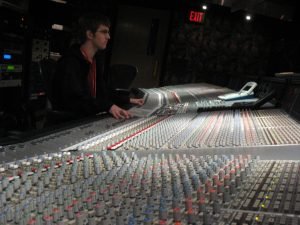 Sound engineering will involve recording, editing and composing sound for media formats. A sound engineer can be employed through music production companies and the TV or radio industry. Individuals who are interested in enrolling in programs offered at sound engineering schools will typically earn an associate's or bachelor's degree in music engineering, sound engineering or audio engineering.
The goal for this profession is to ensure that any type of broadcast or recording has crystal clear, high quality sound. This is a highly technical position. Working as an engineer requires proficiency in working with electronic equipment and excellent computer skills. An engineer will need to coordinate with directors, producers, editors, video technicians and performances in order to create professional sounding audio. Engineers are often required to travel to different locations in order to perform on-site technical tasks, which means adaptability and flexibility will be key.
The basic duties for this position including repairing, operating and maintaining broadcast and audio equipment, choosing the appropriate types of audio equipment based on a variety of situations and planning and scheduling work in an effective and efficient manner. An engineer must also stay informed regarding new developments and techniques made in this field.
Working as an engineer usually requires some form of training and certification. This can include certificate programs and degree programs. Successful engineers will often have computer proficiency and technical skills, in addition to a passion for music, broadcasts and recordings.
When it comes to entry level positions, most employers will require the completion of a certificate program or an associate's degree. This position often includes on the job training because technology is constantly being released and developed.
Popular Education Paths for Engineers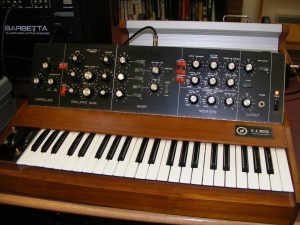 Obtaining an associate's degree is sound engineering or a related field can take two to four years. Some schools feature specialized degree programs that can be completed in less than two years, but only full-time students will qualify for enrollment.
The two year associate's degree program, offered by most schools is typically the most common education path for students interested in gaining an entry level position as a sound engineer. Students in this program will learn how to use sound engineering to add effects and music to electronic media, radio and TV programs.
On a techy level, a student will need to learn the basics of mixing technologies and audio recording. They will also learn the elements of acoustics, recording systems and music theory, sequencing and audio signal flow. Students will learn how to work and communicate within a group and manage workstations that are used for sound engineering.
Individuals who are interested in enrolling in sound engineering programs need to have a high school diploma or GED to qualify. Program applicants will need to have a strong understanding of music, communication and technical math. The courses will combine the student's technical knowledge with practical hands on experience. Some of the core classes will include studio engineering, music fundamentals, digital sound design, studio recording, audio production, multi-track recording, audio production and music theory and music fundamentals.
As a student studying sound engineering, you will learn how to function in the average studio environment. Not only will students learn in the classroom, but they will also obtain practical experience using professional quality recording equipment and consoles. In the school's on campus studio, students will work closely with recording artists, learn how to do final mixes, mic sessions and edit tracks. Students will also be taught important organizational and technical skills.
Basic associate's degree programs will teach students
How to manage the production process, including mixing and mastering
Students will learn the fundamentals of music business
Top software programs such as Pro Tools will be explored in program specific courses
Students will obtain industry knowledge regarding film mixing, field recording and post-production processes
Aspiring engineers will also take foundational courses in music history, critical learning and basic gear set-up
Career options exist in a number of fields, including the entertainment industry. Potential positions can include sound engineer, sound editor, studio technician, music production tech, composition tech, audio engineer and re-mastering specialist.
Do you Qualify for Advanced Training Programs?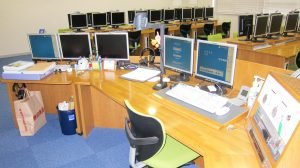 The bachelor's degree program can be completed in four years and is very similar to the associate's degree program. A student will be expected to learn the basic technologies involved with editing sound, and recording in a studio, while also developing their creative side in regards to producing music. A student will also be required to take general education classes, as part of the graduation requirements. A student will divide their time between learning practical techniques and music theory. Most degree programs will require that a student complete a senior project or an internship component.
This program is usually offered at specialized technical schools or four year universities. The enrollment requirements for this program will vary from school to school.
The bachelor's program will require a student to complete lectures in sound recording devices and music theory, in addition to practical studio sessions. The majority of students will spend a significant amount of time working on their independent audio projects. The typical courses included in this program will involve such topics as basic studio techniques, introduction to the music industry, acoustics and audio theory, sound design, electronic theory, live sound production, copyright laws and studio operations,
A graduate will be eligible for such positions as live sound engineer, mastering engineer, dialogue editor, music track editor and studio manager.
In terms of advancement, after you have graduated, nothing will be more important than hands on experience working with a wide range of professionals in the music industry. Often, the journey of the successful engineer will be lengthy and can include working long hours, six or seven days a week for a small salary. The first two years in this field can be a challenge, but once you have proven yourself and made connections with reputed producers and engineers in this field, your career will really begin to take off.