This post may contain Amazon® product affiliate links. We may receive a commision if you make a purchase after clicking on one of these links but at no cost to you. Please visit Our Disclosure Page for more information. Thank you.
Since 1692, when picnics were first invented by the French, they have been a popular and exciting way to combine a meal with outdoor entertainment. During the first few centuries, everyone who attended the picnic contributed food, but today, picnics range from a few PB&J sandwiches, apples and soft drinks to gourmet entrees with fine wine. To accommodate all types of al fresco dining, there is a wide variety of picnic baskets and backpacks that make picnics easier and more fun.
Traditional Picnic Baskets
Traditional baskets always add elegance to a picnic and this Canasta Grande Basket captures well the simplicity and elegance of a classic basket. The black wooden lid and the white cotton cover that fold over the rim compliments well with the double-strand woven willow design giving it an attractive look that stands out in any occasion.
But looks aside, three things to like about this basket is the size, handle and the design of the lid.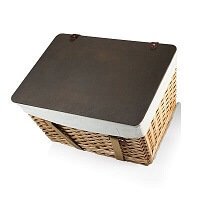 Considering that it comes with no add-ons but only an empty space, this basket provides loads of room for packing as much as you need for your outdoor feast. And no matter how much you stock, you don't have to worry about your food pouring forth.
The straps are long and made from cotton, so they are pretty hard and won't break easily. Another plus is the fastening handle. It secures the straps together with a comfortable soft grip. You can carry this basket for a long distance without your hands wearing out.
While it may not include accessories like most of its modern counterparts, the empty space presents a good opportunity for customizing your picnic to your desired taste. You can decide to go with personal items that compliment your style and setting. Or you can make your picnic even more memorable by harmonizing the beauty of Mother Nature with some bit of your personality. And if it's all finger food, you can forego the utensils.
Now the best part and perhaps a well thought-off design feature is the flat lid. You know how food always tend to run away from your plate once you place it on the blanket or how you always hold your drinks simply because putting it down is a problem.  Well, with the design of this lid, you are bound to enjoy the moment with zero chills.  It's flat and made of wood and can serve as picnic mini-table for holding the plates and drinks.
One thing though, you might want to consider plastic utensils over glass ones except for the wine glasses. You will be staffing everything in one place, so you want to avoid ending up with broken plates at your picnic.
All in all, if you are thinking of a simple classic picnic with that cherished person in your life at the beach, the pack or any other place that accentuates the beauty that Mother Nature nurtures, then this is the basket to go with.
If you fancy a good old-fashioned picnic with a modern twist in it, then the Canterbury picnic basket is an ideal option. The exterior is aesthetically pleasing. The leather straps combined with the melon color of the willow wood body gives it a classic look. Going into the interior, it's equally attractive. The cotton corduroy is plain simple but enhances the overall classic look of the basket.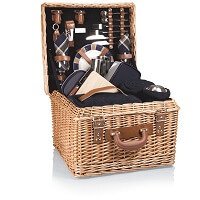 Many traditional-style baskets don't include any add-ons but with this one, you don't have to worry about utensils or arranging them. This Canterbury basket comes with a complete set of utensils with compartments behind the cover for holding each utensil including straps for two wine glasses. And you have more space to pack enough food.
The willow body is strong and heavy. When you include the utensils and the food, then the basket will be heavier, so the suitcase-style handle is particularly useful. It will withstand the weight of all the things you fit into the basket even if its heavy, provided that you are not planning to carry stones.
When it comes to other accessories, you are well covered. You have a wine duffel and a vacuum flask. Whether you are going with wine or just a nice hot coffee, you are sorted out. Also featured is a picnic blanket and you don't have to carry it solo. The fastening straps are extra long, so you can fasten it on the exterior of the basket.
This is one basket that gives you versatility in terms of utensils and as such you don't have to spend any money on acquiring additional utensils. So, if the Canasta Grande did not win you over, then you can consider this Canterbury basket.  It gives you class and enough space to carry all you need to have a great picnic.
Backpack Picnic Baskets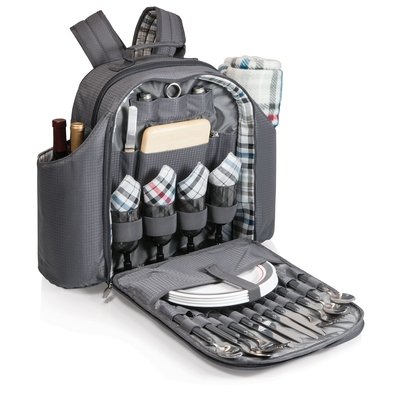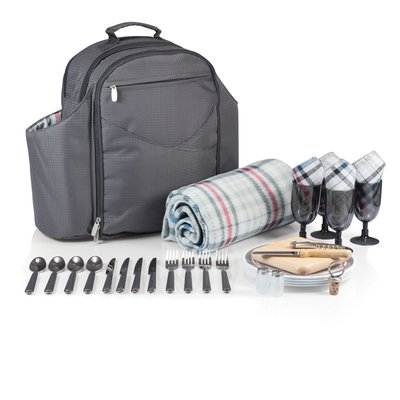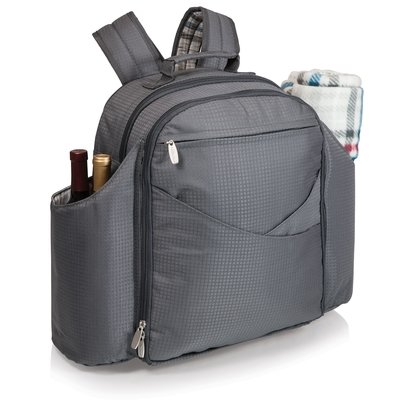 When going to a concert, hiking, or to the beach, carrying a picnic basket is not good an option. These are settings where you are bound to jump here or there or trek for miles and bringing a basket along is inviting stiff shoulder, arm aches and dirty wicker. You need your hands free from any permanent engagement.
That's where a backpack comes in. They are not only efficient in carrying meals to these events but are also very comfy. A back pack will give you an easier time especially if you are going in a sport adventure, mountaineering or any faraway picnic.
One of the picnic totes with a design that specifically suits fans of adventurous picnicking is the Big Ben picnic basket.
In terms of space it's the real deal. It's an all in one backpack. It comes with all the amenities and enough storage space to support meals of four people.  There are five exterior pockets for food, beverages and accessories.
Nothing gets jostled as you move about with this bag. The interior pockets fasten the utensils on to the bag such that you can manoeuvre your way through some rocky trail in search of a beautiful picnic spot without breaking a thing.
It's comfy and will make the trip easy. You don't want a bag that will wear you down before you even find that perfect perch, certainly not. The Big Ben is heavily padded from the shoulders to the back. This extra padding allows for maximum comfort and will make the trip gentle on your body.
Temperature changes are not much of an issue because your food or drinks will remain cold or warm. The interior food sections are fitted with ThermoGuard insulation and this will maintain the temperature of your food for a longer distance. Same to your food, you won't end up drinking warm water after conquering miles of trekking. Your water will remain chilled throughout the journey.
So, in case you are planning to experience your finer moments of life on a faraway destination up the mountain, down the beach or amidst electrifying performances at a concert, then make Big Ben your companion. It's a quality, durable backpack with a fair price perfect for concerts, tailgating, sport events, the beach and hiking.
This backpack is in the small side but comes with almost everything that two people need to have a wonderful picnic.
It's not that big but there is plenty of room in the insulated section to accommodate a variety of small goodies from cheese to crackers to fruits to anything else that you may desire and you can strategically pack. Once you've packed everything, it's still lightweight and easy to carry which makes it a good option for hiking.
If you are not sure which drink to carry, you can bring both on board because there are two sleeves to accommodate two different drinks. The wine sleeve still works great for water bottle. You can also bring hot coffee or cocoa along with you. The thermos is sizable and there are two coffee mugs at your service.
Packing is quick and easy with the complete set of utensils and dishes secured with straps. However, the plates are melamine while wine glasses are acrylic, so if you prefer quality dishes, silverware and glassware, then you will have to upgrade them.
Like the Big Ben, this Classic Picnic basket is comfy to carry. The shoulder straps and backside are softly padded hence provide a comfortable and sturdy carry handle.
Is it aesthetically pleasing? Definitely yes, the overall black color of the material with leather strips at the front and the handle gives it a somewhat decent yet pleasant look.
Cleaning is not a problem. The material is polyester canvas, so a wet rack will do just fine. You can even remove the liner of the ice chest compartment for washing.
The only slight disappointment with this backpack is that it does not include a picnic blanket which is an essential accessory.  You will have to purchase it separately.
Looking at all these features and considering its price, it's pretty fair to conclude that this is another great picnic set for the lovers of adventure, tailgating and outside camping. If you also enjoy biking or walking along the beach in search of a perfect spot to take in the alluring effects of the sun set, then this Classic Picnic Coffee backpack is a great buy.
Picnic Coolers
This is more than your regular backpack. It may feel and look like the Classic Picnic Coffee backpack, but this London Picnic backpack cooler has been designed with one sole purpose. To allow you to enjoy fresh and healthy home-cooked food anywhere at any time.
The thermal shield insulation in the cooler section of this backpack can keep your food warm and drinks chilled for long hours, which makes it a perfect fit for concerts, hiking, tailgating, park picnicking or whatever outdoor activities you wish to indulge to.
The cooler section of the backpack is also quite spacious and you can pack a good-sized meal without much strain. There is enough space to staff some crunchy snacks as well. The side pocket of the cooler allows for wine or water bottles to be stored securely.
No matter how much you pack, you will move around with much ease without your shoulders or back becoming sore. The weight is well distributed when properly loaded while the padding on the back and on the straps provides cushioning that makes it comfortable to wear and carry for hours.
If you are looking for a functional multipurpose cooler with a sleek look and the comfort of a backpack, then this is the one to go with. You can use it to store things that need to be chilled or to hold enough warm food for at least two people and effortlessly carry it to your picnic destination.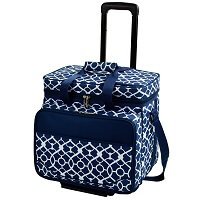 If you are on the hunt for a well-made cooler that's functional and very roomy but looks pretty too, then you might want to consider this Trellis Rolling Picnic Cooler.
Great size with plenty of space and comes with everything you need for a picnic. This is a really nice cooler slush basket for family picnic.
The cooler section consists of an insulated liner, and when you pack some food and maybe a bottle or two of wine, they stay fresh and chilled for hours on end. You won't have to worry about foods going bad because the Trellis is more of a cooler than your regular picnic basket.
Even much better, you will find this basket very versatile with the addition of wheels and an adjustable dragging handle like those you see on suitcases.  With the wheels in place you can move from barn to barn or walk through the park to your picnic site with style and much ease.
The handles are easy to adjust and offer great support with the padded wrap around the strap cushioning your hands and making pulling the cooler much more comfortable.
The wheels do not just make this a highly portable cooler but also lightens the weight which makes it easier for older people to handle as opposed to carrying it around. This would be the best cooler to take on your road trip or down the beach to keep things chilled, to the grocery store to get some bags of ice or some vegetables and even to take food to potlucks.
Having said that, the pattern and color looks great and the material is of good quality, so it will look cute and last a long time too. The cooler has quite a sturdy bottom with little silver feet to keep it stable. Don't expect any wobbling while on transit or packed.
So, if you want a highly portable cooler that's very cute, will keep your food and drinks cold and still be able to use it as a picnic basket whenever the mood calls for it, then you should include this Trellis Rolling Picnic Cooler in your budget.
The aim of any picnic carrier is to transport previously prepared food, beverages and cutlery from the place it is prepared to the outdoor venue. When selecting a product, you need to consider several things starting with portability. Your needs will be different if you plan to drive to the spot and either spread a blanket on the ground or use a provided picnic table, or if you want to hike into the forest and find a perfect spot in the wilderness. Another option may be carrying a picnic to a concert or sporting event. For long distances, a backpack or carry-on luggage style product may be easier than lugging a heavy basket. If you just need to lift the basket from the car to a table, a traditional basket may be all you need, and some baskets come with shoulder straps.
Food storage is another important feature to consider. Some backpacks have built-in thermal insulation for hot and cold, but with a basket, you may need a separate container if your food needs to keep its temperature. Both backpacks and baskets come with an impressive array of accessories. You will find wine openers and glasses, thermoses, plates, cutlery and napkins. Rolling coolers also have compartments for cutlery, glasses and beverages.
Picnics need not be confined to a sunny afternoon in the park. There are many occasions when a picnic is a welcome change starting with night picnics that start at sunset and continue after dark. They are a unique opportunity for a romantic interval, but may require candles or Tiki torches. If you own a speedboat, yacht or dingy or can rent one, consider having a picnic in the middle of a lake or floating down a river. Urban picnics are another popular activity that take place in city parks and squares. Some intrepid people even assemble comfort food and hot chocolate for picnics during the winter.
Along with your sandwiches and beer or wine and hors d'oeuvres, there are a few other items you may want to pack starting with a blanket that is a comfortable and clean place to sit and keeps your food off the ground. Citronella candles or bug repellent and games such as a Frisbee, football or deck of cards are also useful.
Now, that you have a better idea of the different types and styles of picnics, you can make a more informed selection of picnic basket or backpack. You may even find that you want more than one picnic basket so you can have just about any type of picnic you want.