This post may contain Amazon® product affiliate links. We may receive a commision if you make a purchase after clicking on one of these links but at no cost to you. Please visit Our Disclosure Page for more information. Thank you.
If you're new to paleo, then it can be hard to come up with lunch ideas that are easy to make and paleo approved. The paleo diet is designed to improve your overall health and teaches you how to make healthier food choices for the long term. When it comes to paleo lunches, your choices are truly limitless, once you get the hang of how this diet works.
Best lunches for a Busy Work Week
For most people, the sandwich is a lunchtime staple. Just because you're on this diet doesn't mean you have to go without, just make a few changes to the classic sandwich and you'll be able to enjoy healthy lunches that are fast and easy to make. Make a tuna and avocado lettuce wrap. Tuna contains a lot of protein, it's cheap and it tastes great. Avocados are an excellent source of healthy fat, fiber and potassium and they can also add much needed flavor to any meal. Use the lettuce in place of bread and enjoy the convenience of a sandwich with the nutritional benefits of the caveman diet.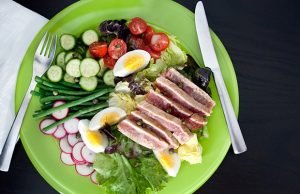 Love meatball sandwiches? Use zucchini in place of bread and enjoy meatballs made from lean ground beef or ground turkey.
Paleo nachos are a great options for lunch, especially when you're in the mood for something filling that feels almost like you're cheating. Make your nachos with fresh chopped veggies, pile on the avocado and enjoy them with seasoned beef or ground turkey and sweet potato chips.
A chipotle lettuce wrap with chicken can add some flavor to your noon day meal. Top with fresh green onions, olives and cut up tomato.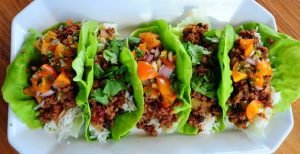 Shrimp fried rice may sound impossible on this diet, but not if you make some cauliflower rice. To make cauliflower rice, simple grate the cauliflower and boil. Next, fry the rice in coconut oil, adding shrimp and your favorite veggies.
The paleo diet can have you missing your Tuesday taco day big time, so don't go without and instead make a healthy taco salad. Make a traditional green salad and top with pico de gallo, avocados and seasoned ground beef or ground turkey.
Spicy chicken stir fry with peppers is a quick meal that really packs some flavor. Eat the stir fry alone or over cauliflower rice. Add spicy and sweet peppers for flavor and use coconut oil to fry them.
Are you having pasta cravings? Use spaghetti squash and top with your favorite marinara sauce and meatballs.
Try an herb chicken dish that only takes thirty minutes to cook. Prepare this meal the night before and bake for thirty minutes. Add a side of sweet potatoes, a green salad or cauliflower rice.
Preparing for Paleo during the Week
Meal prepping one day of the week can save you a lot of time. Cook up a batch of chicken breasts with roasted veggies, make some cauliflower rice and cook up some seasoned ground beef. Separate these into meals for the next three to four days. This is an ideal way to ensure that you eat a healthy paleo lunch during the week at work on when you're on the go.