This post may contain Amazon® product affiliate links. We may receive a commision if you make a purchase after clicking on one of these links but at no cost to you. Please visit Our Disclosure Page for more information. Thank you.
With an all time rise in IT jobs, computer science is becoming a very popular subject to be studied. The industry of development, testing and automation are interlinked to each other. Hence, development in any one of these industries leads to employment opportunities in the others. Apart from the employments, the computer science sector is also getting richer in challenging job profiles. Each day of work in the IT industry deals with a multitude of technologies in play.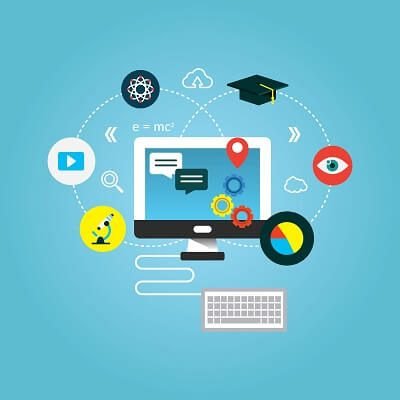 WHY AN ONLINE DEGREE?
There are a lot of advantages of an online degree.  The two eminent benefits are in time and money. Most online courses have been designed keeping in mind the time constraints. One can pursue any degree by dedicating just a few hours on a weekly or monthly basis. These courses are comparatively cheaper. Earlier, when the concept of online courses was introduced, companies were reluctant to give them accreditation. But with the recent popularization of the work-study-work concept, more and more industries and colleges are accepting and participating in these ideal courses.
What MNC's and leading companies are looking for in their employees is the biggest question. Answering this question in simple words, one would agree that MNCs are looking for "flexible skills" in their employees nowadays. This means that your skill set should be broader and updated regularly. To match the industry standards, you will have to keep learning and undertaking latest degrees. These certifications will help an organization to boast of your skills to clients, thus making you important in the business. Many people are now considering online certifications to achieve promotions at the workplace.
One another major advantage of an online degree is the equal access to faculties.  Online computer science degrees allows comfortable learning. Additionally, there is a variety of courses which are available online.
  THE AVAILABLE ONLINE COURSES:
There are two broad categories of online computer courses available. These are applied and theoretical. Both the categories have specific subcategories. The applied  courses are available in artificial intelligence, computer architecture and engineering, computer graphics, cryptography, securities, networking, health informatics and computer systems. Under the category of computer systems, one  learns about the concurrent, parallel and distributed systems. On the other hand in theoretical courses, the prevalent ones are in the field of the algorithm, programming languages, formal methodologies, theory of computing, information and coding theory etc. Any course should be picked up only after analyzing the future opportunities in your field.
Apart from the available subjects in computer science degrees, another important thing is the course duration. Majorly, there are three types of online degrees available. First is the associate degree. This is usually a 64 semester hours course which is generally a two-year course work. The second one is the bachelor's degree which is a four-year course. It requires in all, 128 semester hours. There are masters and doctorate degree also. Each degree stands differently in the market.
OVERALL EXPENDITURE:
The expenses and fees of an online degree in computer science can range from $7000 to $30,000. Various top universities offer courses in this band. The cost of a course is determined by the resources being utilized. It also depends on the semester hours. For example, a bachelor's degree would be costing more than an associate degree. These are usually a direct relation to the cost and facilities offered by the universities but you should always be careful while reviewing the costs.
UNIVERSITIES OFFERING ONLINE COMPUTER COURSES:
Rasmussen College
This university offers three prominent courses. One is the software application development certificate. There is also an associate degree available in the same coursework. Apart from these two, there is an option of bachelor's in computer science. The fees for bachelor's degree is $350 for a single credit while that of higher courses its $320.
Colorado Technical University:
The Colorado Technical University offers courses in information technology and cyber security. There are specializations in both of these domains. While the information technology has  several subdomains, the later has three major sub-streams. A total of 184 credits are needed for the IT and two or more are needed for cyber securities. A special fast track option allows candidates to skip a part of the course which might be known to them already.
Oregon State University
The B.S. in Computer Science course offered by this university has 60 credits in all. The overall program cost is $30,236, which also includes the introductory courses. Students can flexibly choose the pace with which the course syllabus will proceed. This makes the degree extend anywhere between 1-4 years.
Besides these top three institutes, there are  other like Florida State University, Old Dominion University, Drexel University etc.
IMPORTANT THINGS TO KEEP IN MIND:
Value for money:
Watch the course syllabus and certifications associated with it. Match the syllabus with costs being charged. You should always carry out an extensive comparison of 3-5 universities in terms of fees and course syllabus. This will ensure that the maximum value to be achieved for the money you spend.
Market Value of degree:
Don't go with the flow of public. Analyze your degree of interest and check its recognition in the market. As  online computer science degrees are new in the business, many companies have norms to accept their validity. It is important to analyze the benefits you will be getting after pursuing this course.
Salary benefits or promotions:
If you are already employed in the IT sector and still eager to earn an online degree for expanding your prospectus at the workplace, be attentive to the market. Track all the future possible promotions. Calculate that in how much time will you be able to regain back the money you will be spending in the online degree.
Selecting a renowned university is the key to have weight in your online certification. With all the background statistics tracking, you need to be self-motivated and dedicated to making out the best of an online computer science degree.