This post may contain Amazon® product affiliate links. We may receive a commision if you make a purchase after clicking on one of these links but at no cost to you. Please visit Our Disclosure Page for more information. Thank you.
Beige has long been a staple colour when choosing accessories for a home. Perhaps, it is because of the colour's versatility that makes it a go-to colour for any home designer or homeowner. It is a bright shade, yet manages not to come off as too flashy for someone's taste. It is quite neutral, complementing surrounding furniture and fixtures.
That is why homeowners opt for beige curtains for their homes. Despite its brightness, a beige curtain may also have the ability to block out daylight and black out a room. Just like the Best Home Fashion Thermal Insulated Blackout Curtains. It comes in the classic neutral colour that can match most home motifs, as it performs its function in keeping out the sun and noise and keeping in the air conditioning.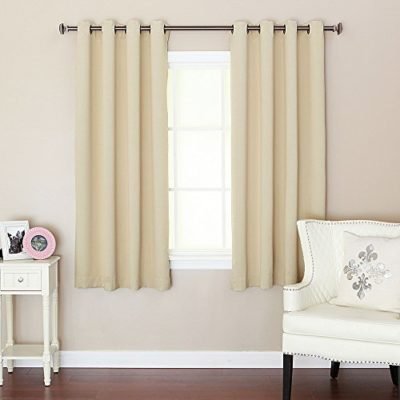 Features:
Innovative lab tested triple weave fabric construction
High quality, improves energy consumption, noise reduction, and sleep
Includes 2 machine washable panels with 8 antique bronze grommets each
Measures 52 inches by 63 inches per panel
6 inch diameter with 2.7 inches grommet rim, and 100% polyester
The Best Home Fashion Thermal Insulated Blackout Curtains primarily boasts of its laboratory tested innovative triple weave design that enables it to block out sunlight and harmful UV rays from entering your home. This feature also serves as an insulating feature that keeps out the cold or heat, thus, saving you big bucks on your electricity bills.
They can also prove to be environment-friendly since they significantly reduce energy consumption from your heating or cooling systems. Added to their eco-friendliness, they are made up of 100% polyester, which is recyclable material that does not emit or leave behind toxic by-products in its recycling process. Its polyester material also ensures that you will not need curtain replacement for a long time, for as long as it is cared for properly.
Aside from improving energy consumption, the Best Home Fashion Thermal Insulated Blackout Curtains, also reduces noise by blocking or filtering them, thus, enabling you to get a full rested deep sleep, even in midday. This is particularly useful for those residing in places with extended daylight exposure, day sleepers, shifting workers, and so many more who need the comfort of a good night's sleep in the middle of the day.
The Best Home Fashion Thermal Insulated Blackout Curtains, includes two panels measuring 52 inches by 63 inches, making it perfect for those floor-length French doors that need a good dose of drapery.
Despite the length, size and creamy colour of the the Best Home Fashion Thermal Insulated Blackout Curtains, is relatively easy to maintain. It is machine washable so you can throw it in warm water with like colours in your washing machine, tumble dry it on low, and straighten wrinkles out with a warm iron as needed only since its polyester material does not wrinkle easily, again saving you the energy cost in a heating iron.
Installing it in a fashionable antique style rod would be very easy too, and very fashionable if paired with its bronze grommets. The grommets will ensure that the panels fall in uniform and orderly folds, whilst also making it easy for you to draw back the curtains to look outside and bask in sunshine or the night lights.
Verdict:
Some previous buyers argue that the beige shade of the Best Home Fashion Thermal Insulated Blackout Curtains does not completely block out the sunlight as it claims to. Although, it does filter out the harsh light, it does not give them the desired darkness that they seek in a completely darkened room that's fit for deep sleep.
You can always opt for darker shades of this brand though, since it also comes in dark blues and blacks. Those shades managed to receive rave reviews on their blacking-out capabilities, but, if you're perfectly fine with a bit of light shining through or do not really need a completely dark room, then beige may be a good option.
Other than those specified qualities, users also were very fond of how the Best Home Fashion Thermal Insulated Blackout Curtains was made with excellent material. The polyester had a shiny finish, which made it feel like silk and added to its classic charm. The fabric was also said to be heavy enough to hold its own, so tie backs are not really necessary with this brand.
Overall, if you are seeking to buy a total blackout curtain so that you can sleep through the day, get the darker shade of this curtain, otherwise, the classic beige may suit you just fine.