This post may contain Amazon® product affiliate links. We may receive a commision if you make a purchase after clicking on one of these links but at no cost to you. Please visit Our Disclosure Page for more information. Thank you.
Here's a roundup of some great healthy salads that I regularly make at home. Tried, tested and recommended!
Avocado and black beans are two things everyone's body is crying out for! This is a gluten and dairy free recipe. Leave the chilli out if you're not so keen on the heat, it still tastes great without. I've tossed the leftovers of one of these salads with some boiled potatoes before, which worked really well.
Source BBC Food
---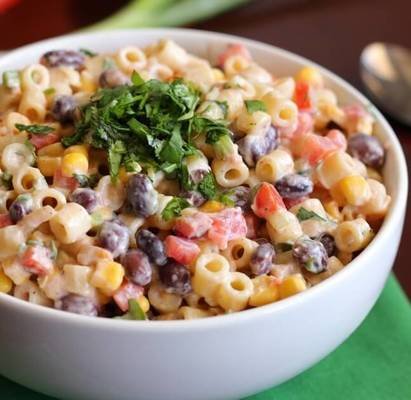 I know we are always thinking low carb, low carb… but you do need a few sometimes. This is a great weekday lunch you can make the night before and travels well to the office. I have this for lunch on days when I'm going to the gym or for a run in the evening.
Source The Recipe Critic
---
Anything this green is going to be good for you. It can also work as quite surprising 'store cupboard' recipe if you keep frozen broccoli florets and edamame beans in the freezer. Then the only fresh ingredient you need is green onions, and you can always substitute them for very thinly sliced brown onions if you are stuck.
Source Gimme Some Oven
---
No healthy recipe list would be complete without the classic Greek salad. It's so quick, easy and healthy. Open a tin, chop a few things and mix a dressing – done! I always go with a bit of feta cheese on top. You can also switch out vinegar for lemon juice if you like. This is another recipe that will keep well overnight in the fridge.
Source The Garden Grazer
---
This is a bit of a treat. I have a few tips and changes though.
Use chilli, cumin and paprika powders from your cupboard instead of buying taco seasoning
Use store own-brand (unsalted if possible) corn chips instead of Doritos. Keeps the cost and salt down
Use a hard goats cheese if you can get one at the store
Source Emily Bites
---
This is a delicious and hearty salad that can be eaten warm or cold. The dressing is a good one to learn, you can throw it on plain potatoes or even on some leftover cold pasta.
Source Green Valley Kitchen
---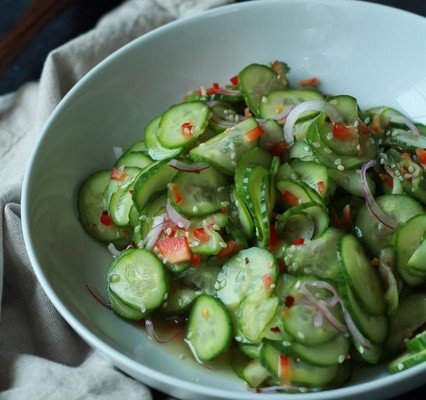 Asian food delivers really good taste-per-calorie value. This is more of side dish than a main salad and I usually serve it on the side of a grilled chicken breast or steamed fish. But if you toss it with some leftover brown rice it can just about stretch to a next day office lunch.
Source Joyful Healthy Eats