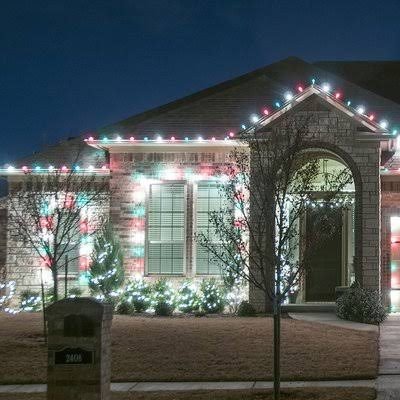 Using solar Christmas lights is a complete environmentally friendly way to create a whole new festive holiday appearance on the exterior of your home.
The best part of choosing solar powered Christmas lighting decoration is that it helps to have as much as fun you like and at the same time it does not increase your electric bill. As an added advantage it allows you to stay away from all the hazards that come with electrical cords, because these particular types of lights do not need to be plugged into an electrical outlet. Solar lights do not involve any sort of carbon emission during the operation so they are definitely highly environment friendly.
If you already have solar lighting placed along an walkway or designating the outline of  a garden, you can easily make this lighting scheme a part of your holiday festive planning.  Snowman and Santa covers could be the best ideas to make your solar Christmas light idea more unique and interesting. If you are planning to decorate multiple areas outside of your home then you should go for using solar string lights. It can make your outdoor garden or patio look very spacious and glamorous. Solar string lights come in different designs such as icicles and snowflakes. You can easily string these lights across the roof of your house. You can also use it along a fence or weave them around a garden trellis. Decorating your dog house with string Christmas solar lights is also a great idea to set the festive ambience. The colour selection of Christmas solar lights completely depends on your personality because you will find both the white and multicoloured lights available in the market.
Apart from solar string lights, you will get other solar lighting options for your outdoor Christmas party. If you are planning to decorate your front door or the fence gate at the drive or front yard then Christmas wreath could be a great idea. Christmas wreath lighting is a perfect idea for making the entrance very glamorous and illuminating in a smart way.
Aside from being a smart and highly cost effective solution, solar powered Christmas lights offer a host of other benefits. It actually eliminates the unnecessary consumption of electricity.
This solar powered Christmas solution is a great solution for the house with children and pet because it does not involve any electrical connection and that's why it is the safest lighting option for your house.
Usually these solar powered lights come with light emitting diodes or LED and it can be easily powered with small solar panel with rechargeable batteries. All you need is fair amount of sunlight.
This lighting option is good for our environment also. The normal electrical lights create carbon dioxide which works as a green house gas. This gas creates a layer of insulation in the atmosphere and that is actually bad for environment but solar powered Christmas light does not produce such green house gas that can pollute the environment.