This post may contain Amazon® product affiliate links. We may receive a commision if you make a purchase after clicking on one of these links but at no cost to you. Please visit Our Disclosure Page for more information. Thank you.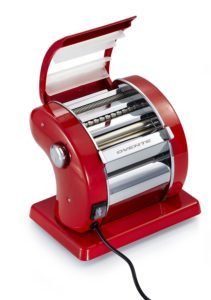 Whether you're totally new to the cooking world or you want to step up your game in the kitchen, learning how to make your own pasta can add a whole new world of flavor to your cooking. There are several techniques you can try, but really, only the pros have the time and patience to whip up batch after batch of perfect hand rolled pasta. For the working professional, time is of the essence. Thanks to the Ovente, you don't have to sacrifice a lot of work and time to enjoy the same taste and quality of authentic fresh pasta. While there are many types of electric pasta machines on the market, not every model is created equal.
True pasta lovers will enjoy and appreciate fresh, homemade pasta, in place of bagged dried pasta, which doesn't have the same texture or flavor that homemade pasta has to offer.
An electric model has a lot more to offer than the traditional hand crank manual machines, which can be time consuming, expensive and often, frustrating to use. Making pasta using a manual machine can take hours and plenty of money, especially if you're totally new at making pasta.
Making Pasta with the Ovente
Making pasta from scratch may not seem very challenging, but it can be if you're cooking for more than a few people. It takes hours to make the dough, roll it out, cut it and cook it. But with this machine by Ovente, you can make fresh, homemade pasta for a large dinner party in under half an hour.
One major issue many people have when making their own pasta is the consistency and thickness of the dough. When you roll the dough by hand or use a manual machine, varying thickness is very common. This can lead to over or undercooked pasta and tends to affect the overall texture and flavor of the dish.
Thanks to the number of thickness settings on this machine, you can make perfect pasta each and every time.
An electric model is also a great option if you're cooking for a large family or have a medical condition that makes rolling out dough or turning a hand crank difficult.
The machine's build was specifically made to save counter space, or it can be neatly stored away in your cupboard until needed.
Specs and Best Features
Making pasta by hand can be too time consuming, especially if you work full-time. This machine cuts down on the amount of time you'll have to spend cutting and rolling.
The solid steel build and bright red finish give this machine a classic look that will complement any kitchen. The lightweight design makes this model easy to move and transport. The compact design also makes for easy cabinet storage.
Now you can create your own delicious and authentic pasta right in your own home.
The nine thickness settings allow you to make pasta with the perfect consistency every time. Getting the right consistency using a manual machine or rolling pin is hard work. Experiment with the thickness settings based on the type of pasta or pastry you're making. You may need to pass the dough through the machine a few times in order to get the desired thickness.
This machine also comes with four pasta shape attachments including ravioli, lasagne, fettucine and spaghetti. Additional attachments for this model can be purchased separately.
Pros and Cons
Pros: Consumers were satisfied with the performance of this machine, especially considering the low cost. The construction is described as sturdy, while the machine's roller work flawlessly. The roller and cutters are easy to use, simply set the dial in order to roll it out. You can gradually lower it until you reached the desired thickness. This machine will save you a lot of time that's otherwise spent rolling out dough and can easily make enough dough for eight people in about twenty minutes. The included instructions are easy to follow and the manual comes with a variety of different dough recipes you can try out.
Clean up and maintenance is easy and can be done using a damp cloth and a knife to remove caked on dough.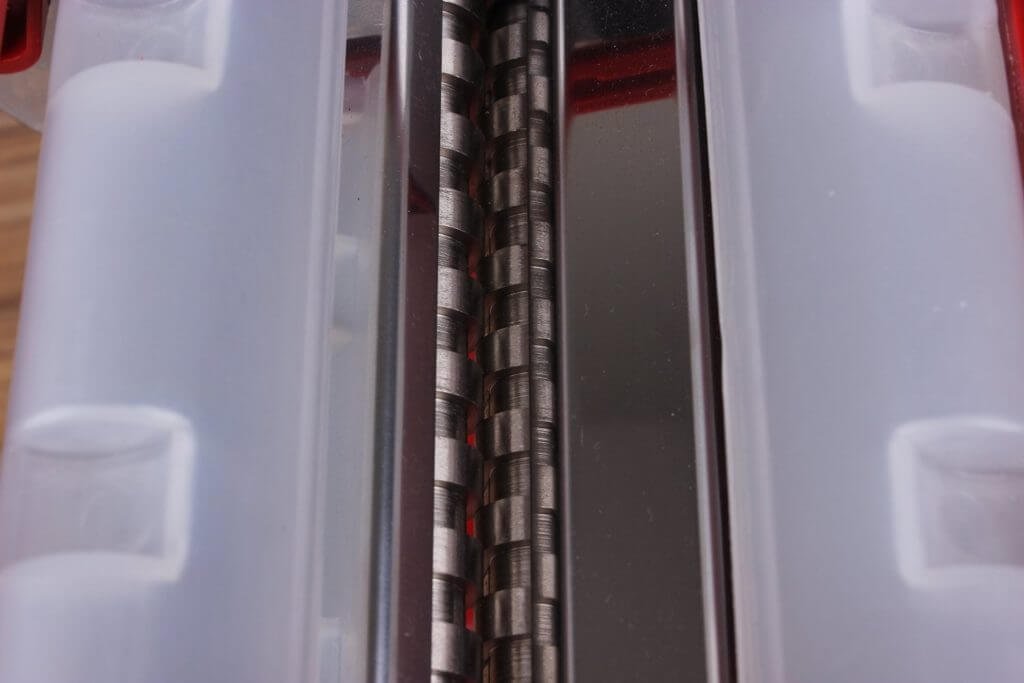 Cons: You may run into some issues when using the thinnest pasta setting, but this is only an issue if the dough is too moist. If you run into any issues, try adding more flour to the dough for easier cutting. Some consumers complained that the top cutter attachment must be pressed down very firmly in order to get a decent cut. Another consumer stated that the machine worked well for about six months, then suddenly began making a loud grinding sound. The same consumer also mentioned finding metal shavings in the pasta. Another issue involves the clamp, which tends to slide off if not placed correctly.
The silver knob that controls the thickness of the dough tends to come off when using the machine, requiring the user to replace it several times. The cutters for the thicker pasta will make loud squeaking noises when you run the pasta through them.
If you're considering this model and you're new to making pasta, there are a couple of important things you should know before making a final decision. First, the manufacturer clearly stated that you cannot use salt in your dough because it can actually break the pasta maker. Next, the user's manual also states that you can't run the machine for more than fifteen minutes at a time, otherwise you risk the machine overheating. Which means, if you're cooking a large meal, you may need to make one batch, then wait twenty minutes before using the machine for an additional batch. Repeat this rest period between each batch you make. This can be frustrating for cooks who are short on time. Some consumers stated they were frustrated that these issues were not made clear prior to purchasing, otherwise they would have looked for a more powerful model.
Conclusion and Rating
Consumers who purchased this machine had mixed reviews regarding the quality and ease of use. While some consumers raved about the machine and the thickness options available, others complained that the machine's performance drastically went downhill after just a few months of use. Consumers gave this model a rating of three out of five stars for attachment options, including cutting tools and thickness setting choices.