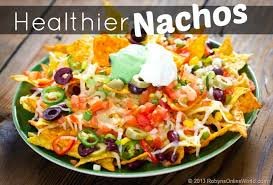 Who doesn't love nachos? The cheese, seasoned meat, refried beans, and sour cream are enough to make anyone step off the path to a healthier lifestyle. If you're like me, you probably crave these flavors, but avoid them because they are full of fat. But, did you know that you can actually enjoy nachos, while still sticking to a healthy lifestyle? The key is to choose healthy toppings and homemade ingredients.
When making healthy nachos, you want to start with a healthy base. You can either purchase baked tortilla chips or you can make your own at home. This is a lot easier than you may think. All you have to do is cut tortillas into wedges and bake until the tortillas start to crisp. If you want, you can also add flavor to your chips. Try mixing lime juice with chili powder and brush it onto the chips before baking. This will add even more flavor to your healthy nachos.
Next, you'll want to choose a lean meat for your healthy nachos. If you love ground beef of your nachos, choose a 93% lean ground beef. But, don't be afraid to try other lean meats as well, such as chicken breast. Of course, you will also need to season the meat, but don't choose a store-bought seasoning packet. Instead, make your own seasoning. This allows you to add the flavors you like without adding tons of sodium. For example, add garlic power, onion powder, cayenne pepper, cumin, and chili powder.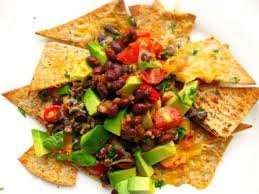 Of course, what would nachos be without a cheese sauce? Unfortunately, many of the cheese sauces found at the grocery store are extremely unhealthy. But, you can still make healthy nachos and enjoy a cheese sauce. You'll just have to make it yourself. A cheese sauce is simple to make, you just need flour, butter, milk, and cheese. Combine the flour and butter and cook until the flour taste has cooked out. Then add the milk and allow cook until thick. Add your cheese and stir until melted. This still contains calories, but it doesn't contain preservatives or excess sodium.
Last, we arrive at toppings for your healthy nachos. Many people may think that refried beans are healthy because they contain fiber. Unfortunately, refried beans are made with lard. Luckily, you can find fat-free refried beans that taste just as good. When it comes to sour cream, you can use low-fat or fat-free. Also, don't be afraid to use guacamole on your healthy nachos. Guacamole is made with avocados and while avocados do have a lot of fat, it's healthy fat. When it comes to green onions and jalapenos, go hog wild and add as much as you want to your healthy nachos.
As you can see, healthy nachos are not complicated. You can easily make nachos that you can feel good about serving to your family. It's as easy as baked chips, lean meat, homemade seasoning, homemade cheese sauce, and healthy toppings.