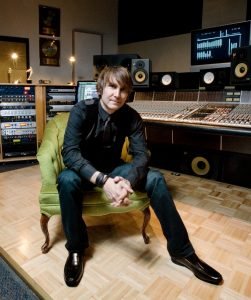 How to become a music producer will involve completing a formal training or degree program in addition to internships. The producer will work by combining vocals and instrumental elements in order to mix audio tracks. Often, working as a top producer in the industry requires earning a bachelor's degree with a concentration in music production and the completion of an internship or senior project.
But succeeding in the music industry can take much more than just formal training and making important connections.
A successful producer is able to work with a wide range of musical styles. The majority of producers have an appreciation and respect for different styles of music and will often catch live performances whenever possible. A producer must be technically skilled and have the ability to use computer software programs and mics in order to engineer quality sounding recordings.
A producer will usually work with music industry professionals and record companies in order to help an artist to achieve more exposure for their tracks. Staying on top of music trends and production technology is important for this position.
A Love for the Game
The average producer will work with artists in a recording studio and record tracks. They will set up, arrange and use recording equipment and mics. They will also generate ideas for a more creative approach to recording tracks and market their skills to potential clients who are looking to record.
The producer will oversee the development of tracks and ensure that the visions of investors and musicians are fulfilled in terms of sound effects, vocals and instrumental arrangements. Technical skills will be required for this position in order to playback tracks, operate soundboards, edit, mix and record tracks. The management duties for the producer can involve booking recording sessions, hiring audio engineers and coordinating studio time. The music producer will also have the final say in regards to how a track is edited.
Producers will also need to interact well with others in order to ensure that every party involved with the creation of an album or tracks shares the same artistic vision. They will also need to have the ability to articulate musical concepts in simple terms and be able to easily and tactfully resolve any type of creative difference.
In order to be successful, the aspiring producer will need a combination of skills, the most important of which is paying attention to your instincts when it comes to how a track should sound.
In this business, people skills are also important, as important as the music you create. When you work with big stars in the industry, you'll need to know how to relate to them and make them feel at ease. The industry is full of different types of people and the producer needs to be able to feel them out and learn how to adapt to their personality and music style.
But being a successful producer isn't just about hanging out with celebrities. Most pros in the business actually spend much of their workday alone, editing tracks, mixing and connecting with other team members. It can be a lonely job when you have a deadline and an album to drop. And these major projects can take several months to complete.
So what's some solid advice for those individuals who are looking to break into the music industry? Never be afraid to ask questions and get feedback. While it's important to trust your instincts in terms of how you want a track to turn out, it's also important to get feedback from the artists and members of your team. In the end you'll go with your gut, but your team members can open your eyes to issues or options you didn't know were there.
Education and Training Options
Currently, there are no formal education requirements for music producers. Having a background in audio engineering can provide a producer with an advantage when it comes to managing engineers. Additionally, knowledge of music theory can be very useful when coordinating vocal and instrumental arrangements.
There are a number of bachelor's degree programs that are dedicated to aspiring music producers. Areas of study for these programs can include digital mastering, recording, sound techniques, production and mixing. There are also master's degree programs available in similar field, for individuals who want to advance quickly in this field. The master's degree programs are three years in length and will also often feature an internship component. The length of the internship for both types of degree programs can vary from school to school, but it will usually take place during the final semester of a program.
During a degree program, the student will participate in a number of internships, which will take place at recording studios, radio stations and TV stations. These internships will help the student to get their foot in the door for this very competitive industry while also providing them with the hands on experience that's needed in order to qualify for immediate employment after graduation. Often, an internship at a recording studio can lead to employment after the intern has graduated.
Accelerated programs for the bachelor's degree are available at select colleges around the country. These programs will allow you to obtain a bachelor's in music production in just three years. But given the heavy workload most accelerated programs offer, only full-time students can qualify for enrollment.
Often, even these accelerated programs will include an internship at a local recording studio, which is an excellent way to earn hands on experience while networking with professionals in the industry. The length of these internships can vary, but if you prove yourself during this time, many studios are more than willing to hire their engineers and producers straight out of school. However, you will still be expected to work your way up the ladder.
After graduation, relocation is definitely an option, with so many recording studios located all over the country. States that feature the best employment opportunities for this position include Chicago, Nashville, Los Angeles and New York.