This post may contain Amazon® product affiliate links. We may receive a commision if you make a purchase after clicking on one of these links but at no cost to you. Please visit Our Disclosure Page for more information. Thank you.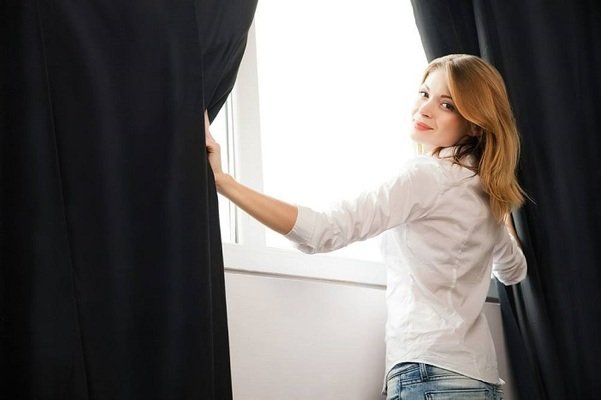 If you are a shift worker, you are trying to get your kids to sleep later or better, you live in Alaska and it's the middle of Summer, you want to get an extra hour of sleep in the mornings, or if you want uninterrupted movie or game time, a good degree of darkness would be really helpful if not necessary. It is a good thing that they created blackout curtains then. These thick, darkening, and often insulating curtains are probably a godsend to those in search of a bit of darkness.
Blackout curtains are an easy and economical resource if you are a day sleeper who needs a bit of help in trying to fall asleep with the sunlight on. These days, they come in a variety of colors, materials, textures, and brands –all promising to deliver a light-free room for someone who needs or simply wants it.
The matter now lies in choosing which curtain is best in blacking out the light from the room, the one who looks the most presentable, and the one with the most added benefits aside from its blackout properties. Often, the best blackout curtains are those who have most, if not all, of those properties mentioned above.
How to choose the best blackout curtains
There are a host of things to consider when choosing the best blackout curtains for you. This can be quite subjective, so the best blackout curtain for one person may not be the same for the next person.
One consideration is how much darkness one needs. Understandably, most people would say that a total darkness would be their aim in choosing a blackout curtain. This, however, does not hold true for some people who choose a darkening curtain for their children's room, where an impaired vision due to darkness can become hazardous.
Another consideration would be its value for the cost. You can expect that since the best blackout curtains are usually made up of heavy and durable materials, they can cost more than your average curtains. Try to take into account the list of benefits and features that each curtain has and do a comparison. This way, you can screen which curtains have the most number of features and qualities for a lower price.
What to look for in a good blackout curtain
As mentioned previously, the best blackout curtains have basically three functional qualities aside from its value for money. They are its light screening feature, its looks, and its other host of advantages over other curtains.
The foremost quality of a blackout curtain is its ability to black out light to produce darkness to a room. Many modern blackout curtains can block up to 99% of external light from entering a room through a window. That would be a considerable amount of darkness that can help light sleepers sleep more thoroughly through daylight.
Another quality is its aesthetic value. Although these types of curtains are really meant to conjure total darkness, they still are basically curtains, which are basically ornamental home accessories by principle. And besides, when comes the time that you awake and want a bit of sunshine into your room, wouldn't you like to be greeted by a pleasant sight hanging by your window pane?
Finally, a quality to watch out for is its other abilities that may come in handy for you and may prove to be such a bane that it becomes a lifestyle. An example of this is insulating ability, where the curtains are able to trap heat in the house during cold seasons, or shield it from heat outside during warmer days, causing you to consume a lot less electricity to air conditioning.
| | | | |
| --- | --- | --- | --- |
| Image | Product | Price | Rating |
| |  Blackout Room Darkening Curtains Window Panel Drapes 2 Panel Set, 52 inch wide by 84 inch long each panel | $$ | 4.7 / 5 |
| |  Lush Decor Edward Blackout Window Curtain Panel (Set of 2), Navy | $$$ | 3.6 / 5 |
| |  Best Home Fashion Thermal Insulated Blackout Curtains – Antique Bronze Grommet Top – Beige – 52″W x 63″L | $$ | 4.7 / 5 |
| |  Lush Decor Leah Window Curtain Panel (Set of 2), 84″ x 52″, Yellow/Gray | $$$ | 4.9 / 5 |
| |  Lush Decor Floral Paisley Window Curtain Panel (Set of 2), 84 x 52″, Blue | $$ | 4.7 / 5 |
| |  Deconovo Room Darkening Thermal Insulated Blackout Grommet Window Curtain for Bedroom | $ | 4.5 / 5 |
| |  Turquoize Pair(2 Panels) Solid Blackout Drapes, Dove, Themal Insulated, Grommet/Eyelet Top, Nursery & Infant Care Curtains Each Panel 63 by 52 inch | $$ | 4.7 / 5 |
| |  FlamingoP Room Darkening Grommet Top Microfiber Blackout Thermal Insulated Curtain | $ | 4.2 / 5 |
| |  H.Versailtex Traditional Aqua Floral Country Style Pattern Thermal Insulated Blackout Room Curtains | $$ | 4.6 / 5 |
| |  Duck River Textiles Lala Plus Bash Kid's Heavy Blackout Pair Panel, 40-Inch by 84-Inch, Wink, Grey, Set of 2 | $$ | 4.2 / 5 |
Darkening curtains are a thing among people who live in areas that have longer daylight than night, or have jobs that require them to work nights, and allow them to rest during the day. Room darkening curtains are invented specifically for this purpose.
Features:
Consists of 2 panels of 52 inches by 63 inches, covering an area of 104 inches by 63 inches.
An easy to install loop and rod pocket style
With 2 matching tie backs, with consistent material from front to back
Blocks up to 99% of sunlight
Filters about 60% of external noise
Helps reduce electricity bill by up to 25%
30 day money back guarantee, no questions asked!
The dual panel design of this blackout curtain allows its user a two-dimensional opening and draping. This can be quite eye-pleasing for areas like the living room where you entertain your guests. It also comes in a standard size that can fit most windows of most homes.
What is also special about this curtain is that is does not skimp on materials. Its back is exactly the same material used as its front, making it elegant looking in all aspects and angles. This also means that the blackout curtain is thick enough to insulate, saving you electricity from too much heating; up to 25% worth of savings. This particular feature enables the blackout curtain to almost completely block out the sun by up to 99% for sounder sleep. Not only does it keep the light out, it also has the ability to keep up to 60% of noise out, for day-sleepers who are sensitive to outside noise.
You can also be sure that it will not be any trouble installing them because they come with a user-friendly and easy to install design with both a loop and a rod pocket style of design for each panel. A bonus of two tie backs ae also included. Its hems at the sides are an inch wide, while those on top and on the bottom are four inches wide.
On top of all that, they have included a money back guarantee in the first 30 days after purchase so, in case you may not have enjoyed the blackout curtain as much as it aims to please you, its company guarantees that you get your money back, regardless of cause
Verdict:
Some buyers who have experienced using the blackout curtain have reported that it offers an additional darkness to a room, thus, improving their sleep. However, some buyers think that the additional darkness is not dark enough. It might help choosing the darker color of this curtain since it comes in a variety of shades.
Just because you are trying to engulf a room in total darkness does not necessarily mean that it is supposed to stay that way for good. Take for example, blacking out your bedroom to extend your morning sleep, you would still expect to wake to a pleasant sight as you look to your drapes and as you pull them back to revel in your day.
This is where the Lush Decor Edward Blackout Window Curtain Panel comes in a chic navy design that can block out the sun so you can say "ahoy!" to good daytime sleep.
Features:
Made of pure polyester
Set of 2 panels of 84 inches by 52 inches
Top grommets for easy installation
Easy to clean
Energy efficient
The Lush Decor Edward Blackout Window Curtain Panel can last a very long time. This is because of the durable properties of polyester. It does not tend to shrink or wrinkle easily, and it also is stretchable, making it difficult to tear. Also, you can be assured that the stylish prints of the Lush Decor Edward Blackout Window Curtain Panel will stay put as the colors in polyester does not fade easily by exposure to the sun.
The 2 piece set Lush Decor Edward Blackout Window Curtain Panel comes in an 84 inches by 52 inches size, making it perfect for floor-length windows that you and your guests can easily appreciate. It gives out a fresh and breezy aura with its somewhat nautical hints in its design and its navy blue color.
The Lush Decor Edward Blackout Window Curtain Panel also comes in an easy to install grommet type design that is so popular these days. These grommets allow the decorative curtain rods to slide in easily and allow the fabric of the curtain to fall into place in orderly folds that are equal in size. They are equally trendy and stylish as they are very practical, readily available, and easy to use and install.
Verdict:
A lot of previous buyers raved about the Lush Decor Edward Blackout Window Curtain Panel's design. In fact, one buyer commented that her window often received compliments from neighbors and passers because of the Lush Decor Edward Blackout Window Curtain Panel.
However, some previous users commented that although the Lush Decor Edward Blackout Window Curtain Panel does darken a room to a certain extent, they do not deliver the "blackout" part of the deal very well.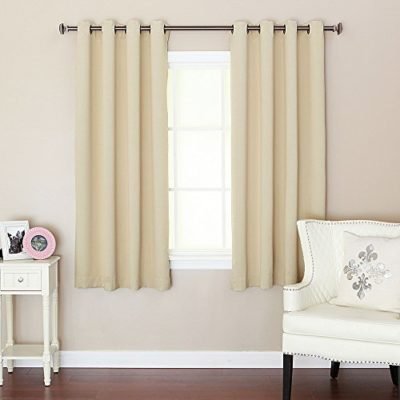 Beige has long been a staple color when choosing accessories for a home, which is why homeowners opt for beige curtains for their homes. Despite its brightness, a beige curtain may also have the ability to block out daylight and black out a room, just like the Best Home Fashion Thermal Insulated Blackout Curtains – Antique Bronze Grommet Top – Beige. It comes in the classic neutral color that can match most home motifs, as it performs its function in keeping out the sun and noise and keeping in the air conditioning.
Features:
Innovative lab tested triple weave fabric construction
High quality, improves energy consumption, noise reduction, and sleep
Includes 2 machine washable panels with 8 antique bronze grommets each
Measures 52 inches by 63 inches per panel
1.6 inch diameter with 2.7 inches grommet rim, and 100% polyester
The Best Home Fashion Thermal Insulated Blackout Curtains – Antique Bronze Grommet Top – Beige primarily boasts of its laboratory tested innovative triple weave design that enables it to block out sunlight and harmful UV rays from entering your home. This feature also serves as an insulating feature that keeps out the cold or heat; thus, saving you big bucks on your electricity bills.
Aside from improving energy consumption, the Best Home Fashion Thermal Insulated Blackout Curtains – Antique Bronze Grommet Top – Beige, also reduces noise by blocking or filtering them, thus, enabling you to get a full rested deep sleep even in midday.
Despite the length, size and creamy color, it is relatively easy to maintain. It is machine-washable so you can throw it in warm water with like colors in your washing machine, tumble dry it on low, and straighten wrinkles out with a warm iron as needed only since its polyester material does not wrinkle easily, again saving you the energy cost in a heating iron.
Verdict:
Some previous buyers argue that the beige shade of the Best Home Fashion Thermal Insulated Blackout Curtains – Antique Bronze Grommet Top – Beige does not completely block out the sunlight as it claims to. Although, it does filter out the harsh light, it does not give them the desired darkness that they seek in a completely darkened room that's fit for deep sleep. However, you can always opt for darker shades of this brand, since it also comes in dark blues and blacks. Those shades managed to receive raving reviews on their blacking-out capabilities.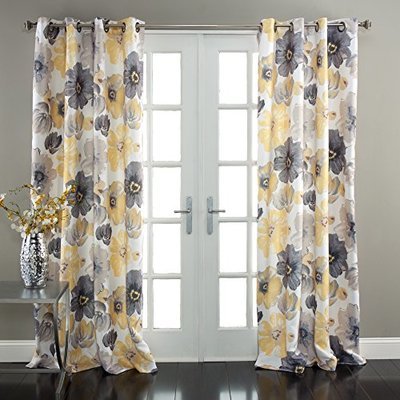 Floral prints and light hues are all about femininity and finesse. Just like the Lush Decor Leah Window Curtain Panel. It combines light and warm yellow with a cool and plastered grey for an easy and breezy feel to a home while making it cosier.
Features:
Imported, 100% polyester
Includes 2 Panels of 84″H x 52″W each
Grommet panel
Easy to install and easy to clean
If you are usually into the mono-color curtain type of curtain and are a bit hesitant or fearful of bold and loud prints on your curtains, you might find yourself surprisingly pleased with the Lush Decor Leah Window Curtain Panel. Its prints are a breezy and cosy pair to bring good balance to your home.
It is made of 100% polyester, which is very durable material that can last many years. It is so durable that it does not easily fade with sunlight exposure, guaranteeing you that the bold and pretty prints will stay on and will maintain their quality as the time passes. This synthetic material is also 100% recyclable, so that would be less of guilt since your curtains are pretty much environment friendly for as long as they are treated and recycled correctly
The Lush Decor Leah Window Curtain Panel also comes with grommet panels that are widely popular these days. The grommets are big reinforced holes on your curtains where curtain rods can easily pass through, thus, making it a breeze to install them. The grommets make the panels move about easily since they slide through the rods effortlessly. This makes opening up your drapes to catch some morning light less of a task, and more of a pleasant and satisfying experience since tie backs will basically no longer be needed unless to hold the curtains in place if you do decide to open the windows and let the wind in.
Verdict:
Most of the reviews were really gushing over the aesthetic value of the design. One buyer commented that the silky material of the Lush Decor Leah Window Curtain Panel made it seem like she got more than she paid for. Not to be underestimated as a mere decorative, The Lush Decor Leah Window Curtain Panel also has some light-blocking power as testified by some previous users. It can block out a decent amount of light, preventing harsh rays from entering whilst not entirely darkening the whole room.
If you are a homeowner with nice French doors or floor-length windows that are starch white, you may be wondering what color of curtains can very well match your panes. A good and creative suggestion would be the stunning blue paisley patterned panels of the Lush Decor Floral Paisley Window Curtain Panel.
Features:
Panels are made up of 100% polyester
Includes 2 panels, measuring 84 inches by 52 inches each
Blocks out the sun
Grommets for easy installation and aesthetics
Easy to clean
Love blue flowers? The Lush Decor Floral Paisley Window Curtain Panel might just be the curtain you have been looking for. It is made up of high quality and imported 100% polyester, giving it sheen in its finish that is soft and flowing and almost feels like silk.
The packaging includes two stylish panels that measure 84 inches by 52 inches each –the perfect length for those fancy French windows or those elegant floor length windows. The material will be soft and heavy enough to fall gracefully to the floor without fuss and wow your guests as they enter.
They also come with modern and very stylish grommets that are so in these days. These reinforced holes that are commonly made of plastic or metal make it a lot easier for you to loop them into your curtain rods, and to slip them out too. Plus, they make the art of uniformly folding your curtains as they fall very easy and satisfying.
Aside from the easy installation and removal, the Lush Decor Floral Paisley Window Curtain Panel is also easy to maintain. Washing it is fairly easy for anyone who knows how to operate a washing machine. Simply place them in a mesh bag, and machine wash them on gentle cycle and in cold water. Afterwards, hang them to dry.
Verdict:
83% of its 23 reviews are all five stars out of five, and received rave reviews about their quality and design. They also noted that despite the white background of the Lush Decor Floral Paisley Window Curtain Panel, it manages to screen off a good amount of light to reduce eye-straining glare from the outside during midday and early afternoon.
The most featured quality of this product based on its reviews, is the quality of its fabric. The 100% polyester indeed delivers and does not disappoint when it comes to pleasing picky buyers who want topmost quality for their money. Some of them even feel as if they got a whole lot more than what they have paid for when it came down to considering the quality of the material of the Lush Decor Floral Paisley Window Curtain Panel.