This post may contain Amazon® product affiliate links. We may receive a commision if you make a purchase after clicking on one of these links but at no cost to you. Please visit Our Disclosure Page for more information. Thank you.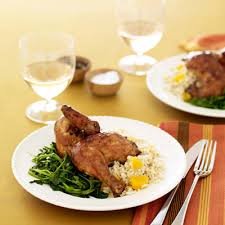 We all know how easy it can be to fore go cooking in favor of the drive-thru. There are a million reasons we do this, from working late, to shuttling kids, to just plain tired. While we are all going to hit the drive thru once in a while it is easier on our waistline to cook some quick, figure friendly meals. In the time it takes you to crank up the mini-van and drive to McDonald's you will have whipped up a healthy meal that won't add itches to your waistline. Try these quick and easy weekdays meals.
Stir Fry- Who doesn't like meat and vegetables whipped up in a snap? I like to put a little olive oil in a large skillet or wok and saute thinly sliced chicken breast, onions, carrots, and broccoli with a little seasoned salt, until the chicken is done and the veggies are crisp tender. Dinner is served in under 20 minutes.
Hamburgers– We all like a good hamburger, but is doesn't have to be loaded with fat like the fast food burgers. If you use lean ground beef or even ground turkey, a whole wheat bun, and lots of lettuce, tomato, onion, and mustard you've got a quick, healthy meal. Serve with baked potato chips and you've still come out better than the drive thru.
Chef Salad– There is nothing easier than throwing together a big main dish salad. I like to buy pre shredded lettuce, then throw in chopped tomato, hardboiled egg (these will keep in the fridge for several days), low fat shredded cheese, some low fat ham and turkey bacon, and any other veggies you like. Put out a couple of low fat salad dressings and a few crunchy breadsticks, and you're ready to eat.
Vegetable Soup– Vegetable soup is comfort food at it's best, but that doesn't mean it has to take all day. I use a large can of V-8 juice, about half a pound of ground beef or stew meat, a can of diced tomatoes, a small chopped onion, a drained can of veg-all, and a drained can of whole kernel corn,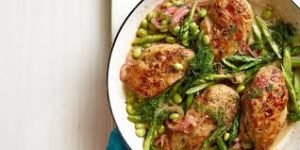 season with salt and pepper. In a dutch oven saute the meat and chopped onion until cooked, then pour in the other ingredients, let it simmer on low while you read the meail, or take a bubble bath. Soup is ready when it is heated through. Add a few crackers or a pan of cornbread and enjoy!
Fajitas– Who doesn't have a soft spot for Mexican food? I like to make fajitas at home the easy way. In a skillet with a little oil saute thinly sliced chicken of beef until cooked (I like to use a package of fajita seasoning from the supermarket with this step but it is optional). Slice an onion and a green pepper, saute it in the skillet with the meat. The fajitas are ready when the meat is cooked and the onion and bell pepper are tender. Heat store bought flour tortillas in the microwave according to package directions. Serve with salsa and fat free sour cream.
Weeknight dinners don't have to mean grease and cholesterol. With a little planning and minimal effort you can have a delicious, healthy dinner fast. Do yourself and your family a favor and stay out of the drive-thru. Your body will thank you for it.